Yooooo, almost at the finale of Season 8 of RuPaul's Drag Race!
My opinions and musings below.
In my humble opinion, the only thing you really need to know about episode S08E08 (and the screenshots I had were terrible quality again)…
One, the Britney Spears-impersonator drag queen is a DICK, looks terrible in actual drag make-up and gets eliminated. (If you think I hate Derrick Barry, read this review that's seething with rage towards him)
source (is also cool blog about RPDR!)
Aaaaand…KimChi might have won the challenge, but Chi Chi was the real winner this episode.
Gorgeous, embracing where she's from, killing it in the Puppet Challenge and with the outfits? BAM.
Now. EPISODE 09. ALMOST AT THE FINALE, BITCHES.
Oh my gosh these guys are just the cutest.
I want me and my best friend to look like that cute. But unfortunately we don't have these outfits nor the dicks that are tucked underneath there.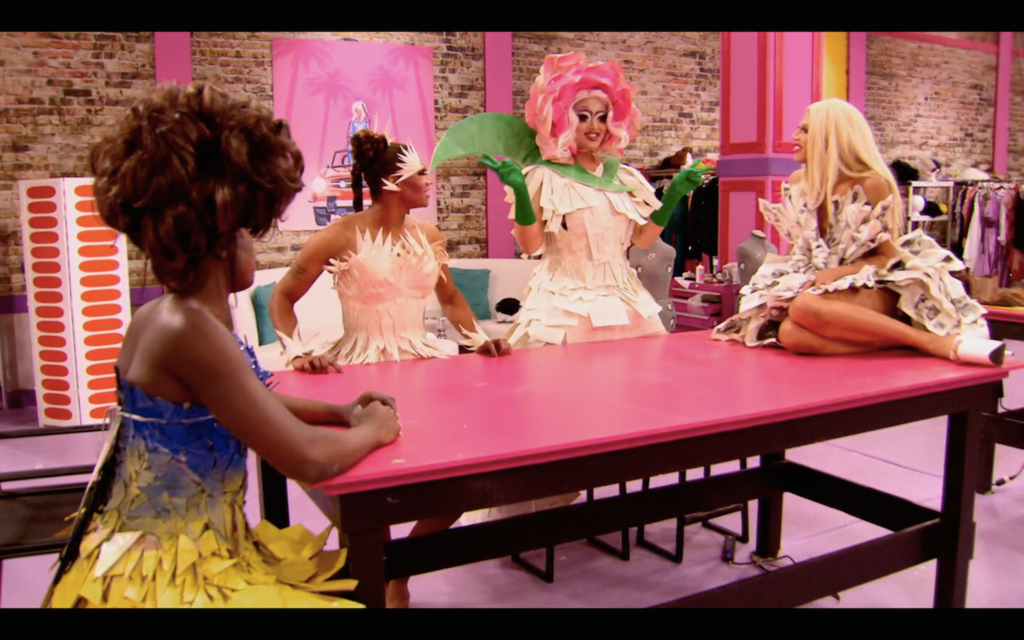 They all look great and they spend a little time messing up Naomi's make-up after Naomi's "I don't think I know how to be ugly!", which is entertaining.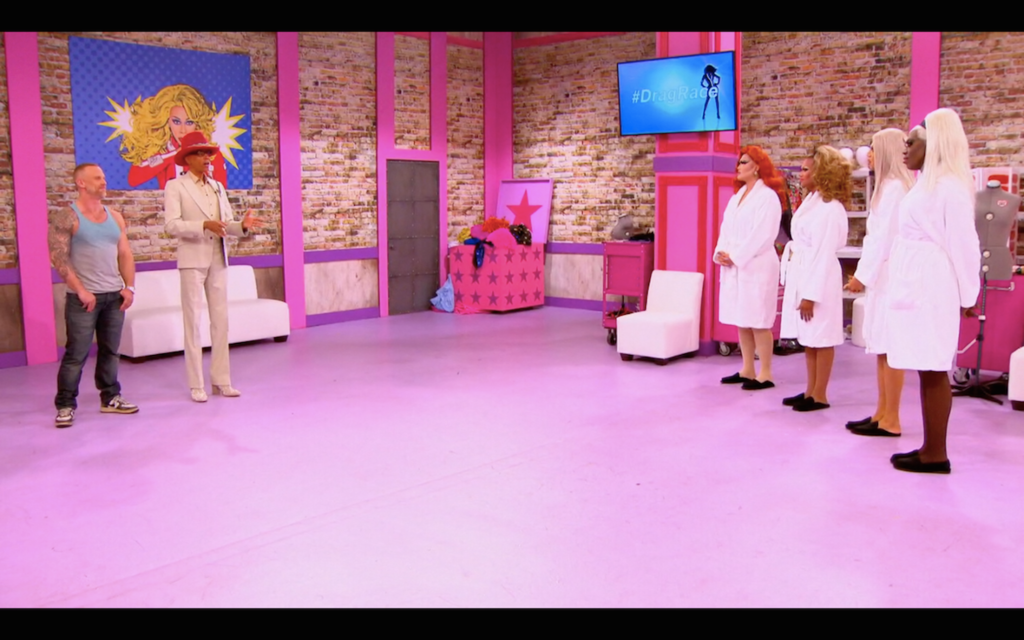 The next morning, for the maxi challenge, they're going to act in RuPaul's new music video for his song 'the Realness'!
Which means during this episode, you will listen to the Realness 5+ times and no longer like the song. Be warned.
Oh, and the queen who gets eliminated today will be cut out of the video completely. Sjeesh. Pretty harsh.
They're lying on a black square podium with have to be all beautiful and graceful.
I haven't seen Bob this uncomfortable throughout this entire season. He looks like he's about to have a root canal.
COME ON LEGS.
Fancy MILF At The Pool Realness.
Kim Chi needs to get herself to a yoga class or two to WORK ON THAT BALANCE, girl. Falling like dominoes, this queen, constantly!
For the next part, they have to be "avant garde" which I always assume means "artsy and different" There is only one clear winner in that regard, I think.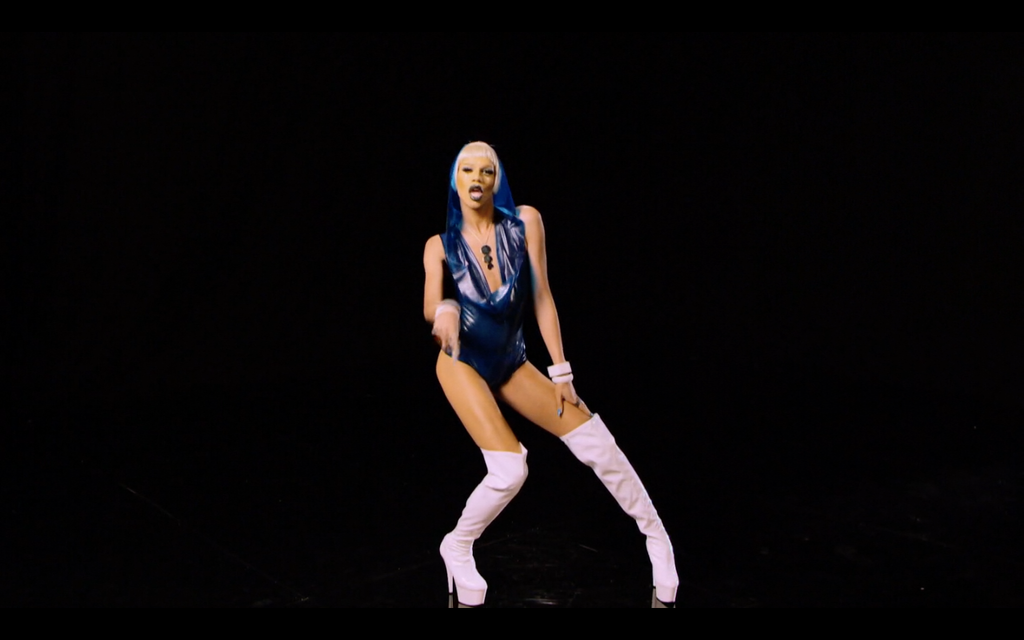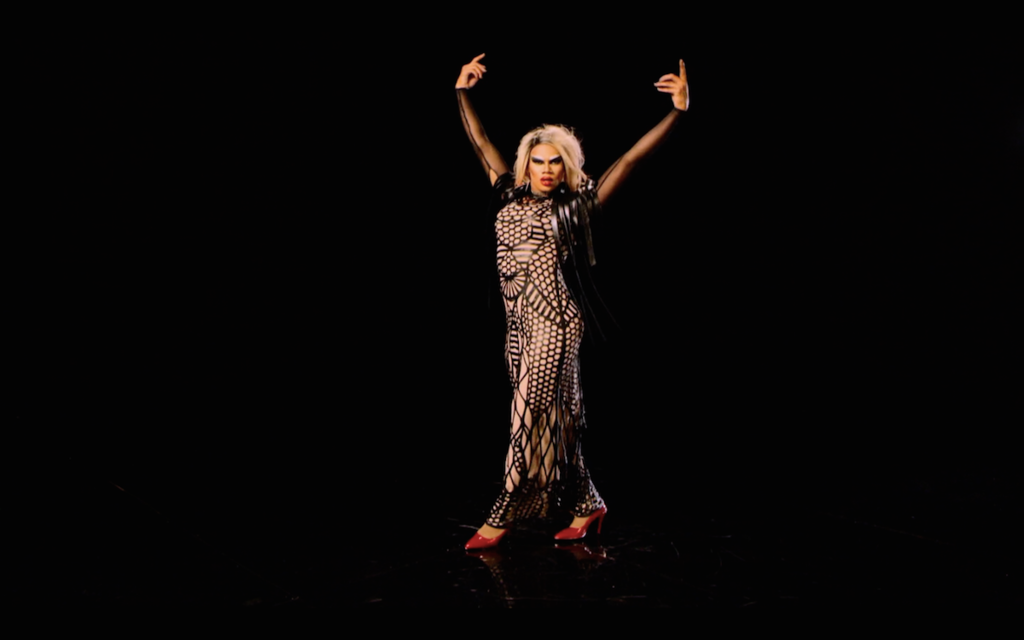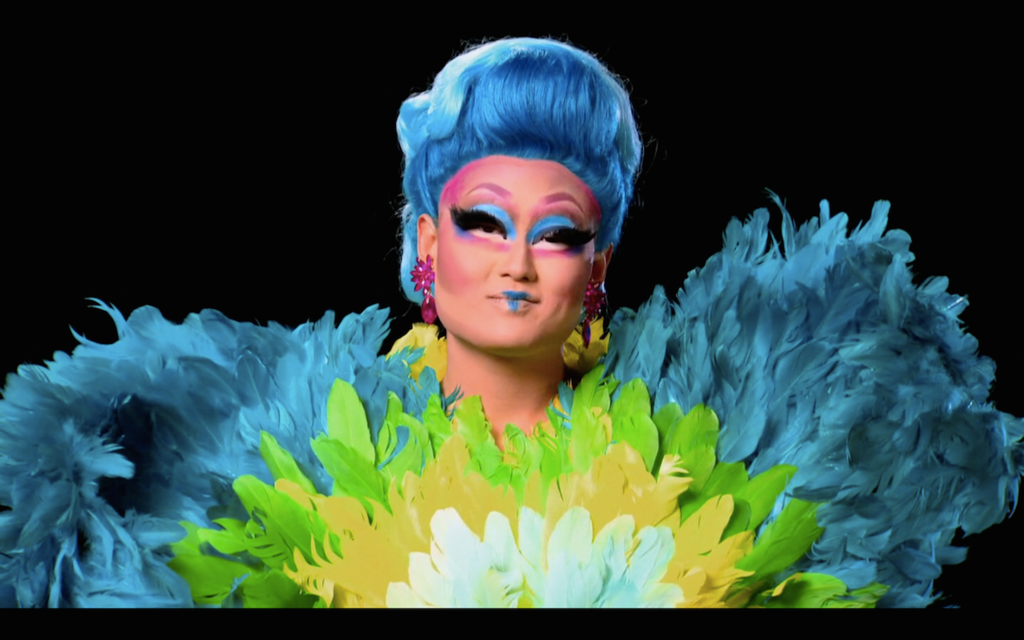 That's right, bitch.
Smirk ALL the way to the crown, you glorious beauty!
The winner of ALL winners pays them a visit for a couple of reads and a joke, then takes off again.
And here's Naomi looking gorge during some of the extra shots for the music vieo, just because it was a left-over screenshot.
Elimination day!
As the season progressed and as I watched this episode, I realised why I like all of the queens so much this season and why the 'fights' kind of bothered me: I feel like it's obviously staged, like they have to. Because whenever I saw them in Untucked, or walking around like this, they all seem genuinely friendly and kind to one another.
I've read interviews where many of them explain that they let each other borrow their stuff, that they grew very close and that's why whenever there was "drama", something was off about it.
I feel like they actually all got really close. Which is actually lovely to see.
Oh Chi Chi. I want it so badly for you, but I have the feeling you won't be able to get to the Top 3 when your competitors are Bob, Kim Chi and Naomi.
Let the record show I want KimChi to win for her amazing creativity, versatility and diversity, but whenever I see this cute smile I just go "SHE IS SO CUTE GIVE HER THE CROWN"
I call this look "The new high school principal is a fierce bitch but wears weird pants."
Beautiful, I guess. My least favourite thing Kim has ever worn, but alright.
Chi Chi goes full pageant, with a beautiful shimmery pink gown, lots of jewellery and a hairdo that I will never understand or wear.
I think Naomi looks impeccable and is aesthetically the most pleasing of all of them, but I don't think that should make her the Next Drag Superstar.
This is always my least favorite part: The queens have to do something that's supposed to make us feel emotional, in this case talk to their younger self and give them advice. Maybe it's because I lost my heart while spring cleaning, but it just doesn't do anything for me.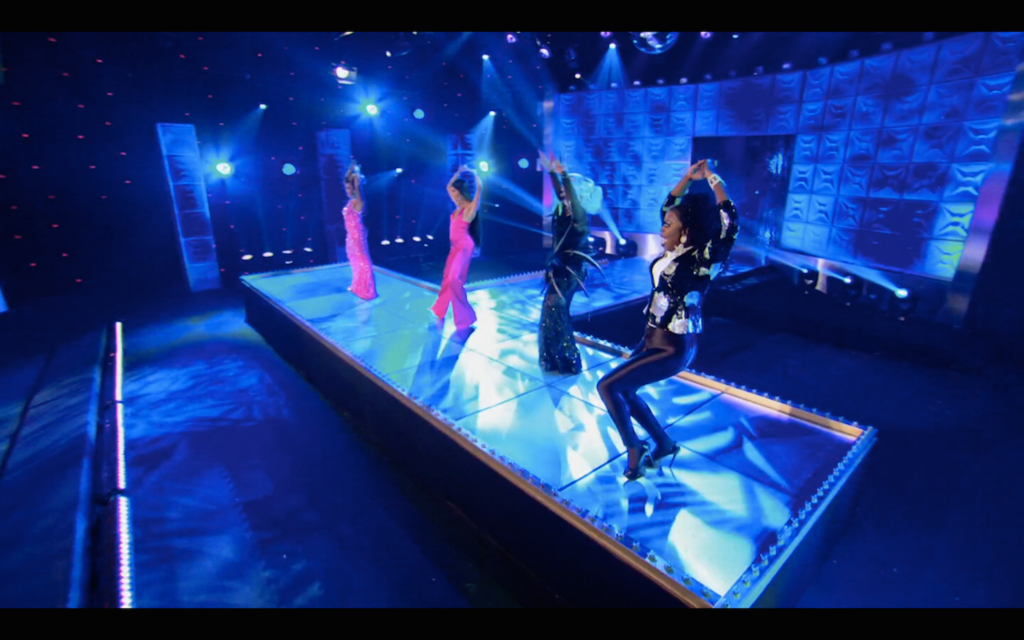 I love it when they lip-sync though. This moment pictured above is HYSTERICAL, because the lyrics are "move into the house" and backstage these four idiots had agreed to do this move and I am LIVING.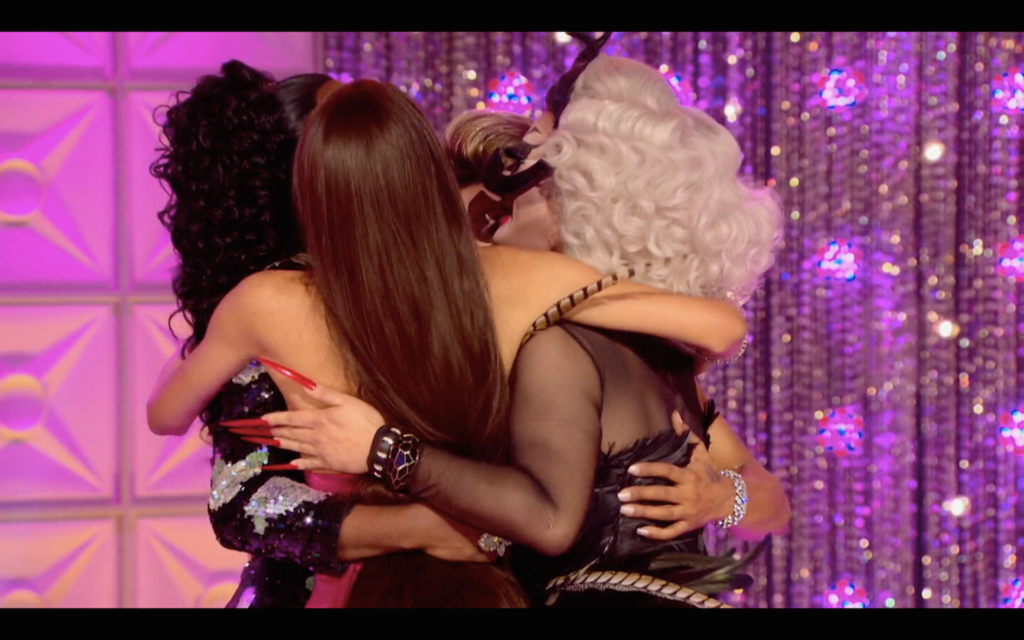 FRIENDSHIP GOALS.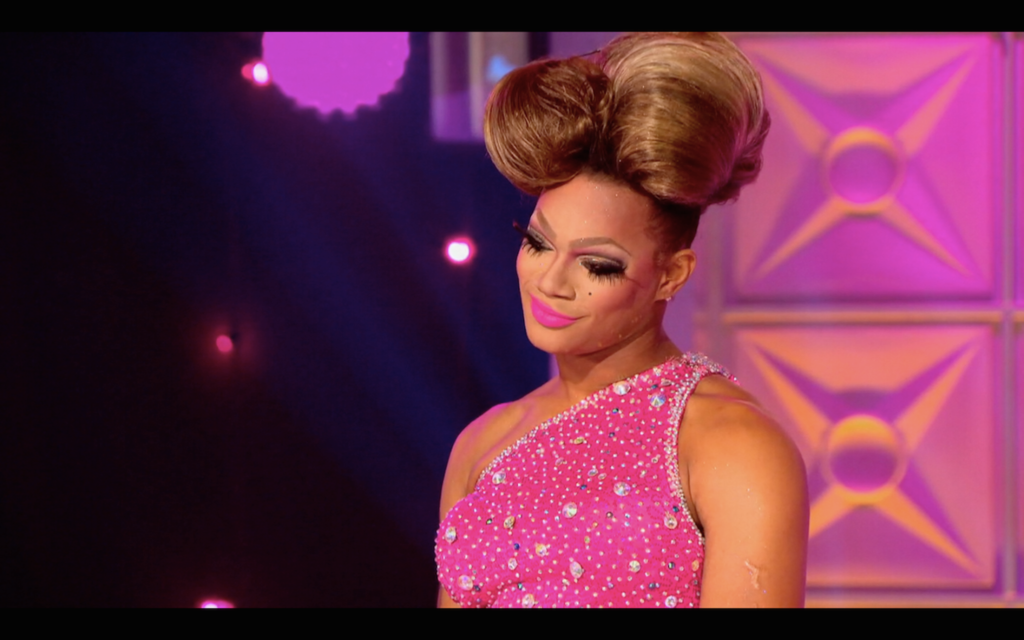 …And my beautiful Lousiana baby is eliminated. I understand, but I was such a fan of hers. I hope she makes the most out of her fame and the show.
And here we have them: The Final Three.
My wish and prediction: Kim Chi.
If I'm wrong, I still think it's more likely that it's Bob than Naomi, but I really hope it's Kim Chi.
Next week is the Finale, which I will watch with OTHER Drag Race Fans!! One of my favorite readers is also a fan, and she asked me to come watch it with her and a friend next Wednesday. I'll be avoiding spoilers like the plague and live-blogging from someone's couch with a cocktail.
Until then! (And after that no more drag queens on my blog. At least not until Season 9 starts…)