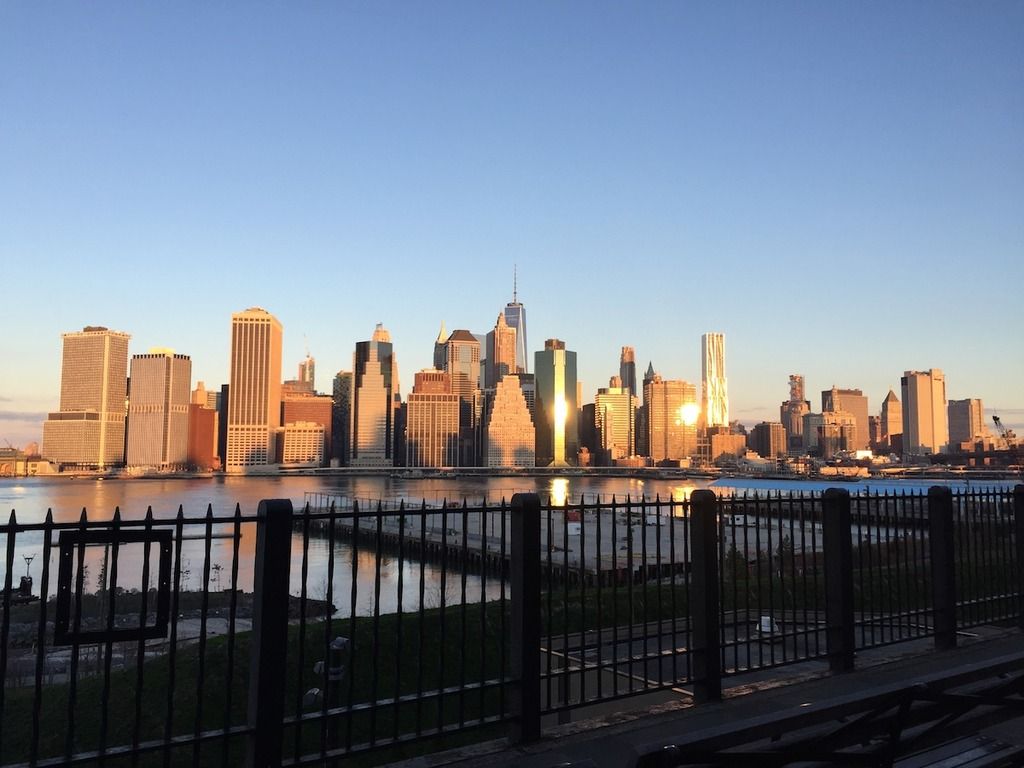 What do you need for a fantastic time in New York?
A friend with an apartment in downtown Brooklyn, two adorable cats, a subway card, concerning but comfortable temperatures, some sight seeing, lots of working out and a crazy purchase.
Travel report in pictures and bullet points.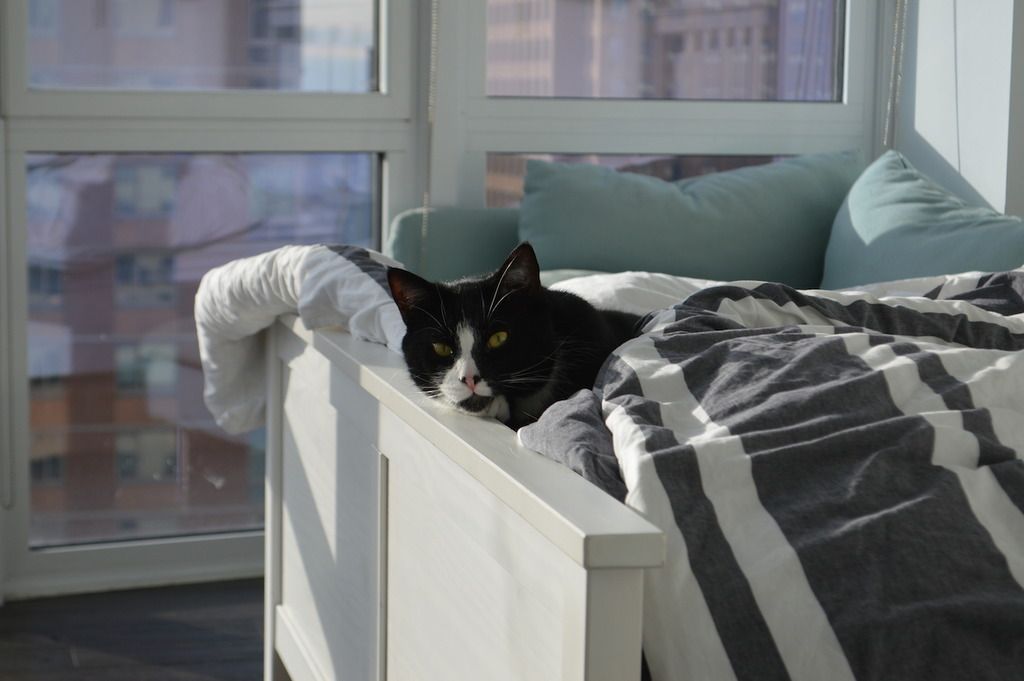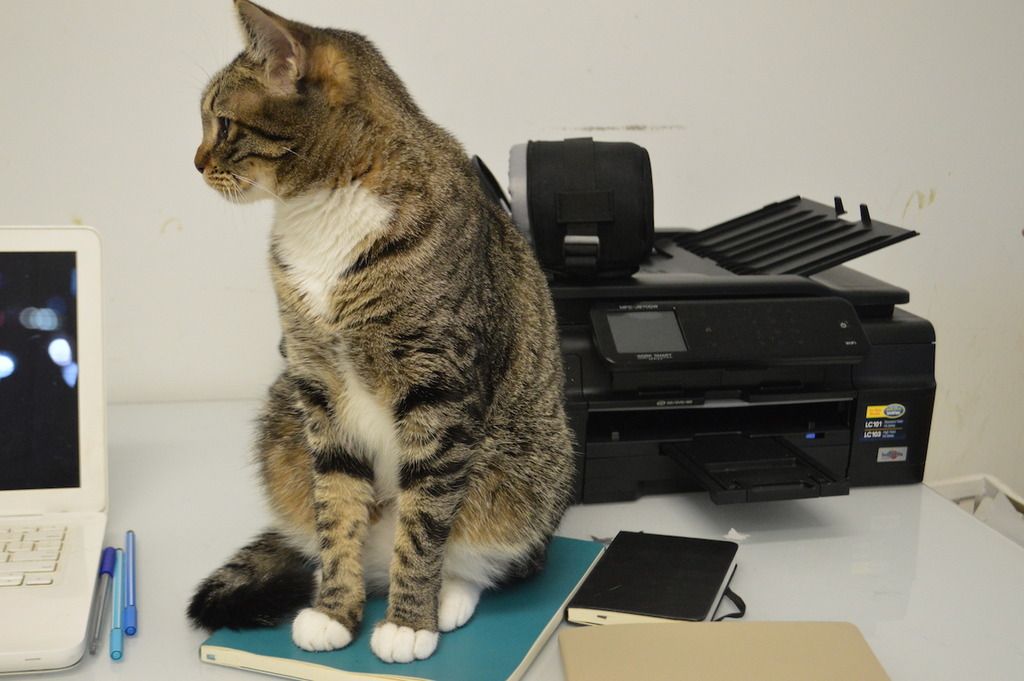 First things first, meet Tibbers and Mumu. Tibbers enjoys lying on all my possessions and long naps in the sunny bedroom. Mumu's interests include sneezing and sabotaging my career as a writer.
Friend Eva lives in Brooklyn, New York with her writer-husband. They flew to the Netherlands, I flew to New York to pet their cats and spend some time in the most iconic city of the world. (Don't disagree, because I will fight you and am not afraid to bite).
ANYWAY.
SATURDAY
Schiphol Airport is crazy busy. I'm always way too early but this time I only walk up to my gate as boarding starts.
For the Nice – New York flight, I'm next to a French lady who is first convinced something is going wrong with the baggage, who -because I can utter bonjour and pourquoi semi-convincingly- rattles on to me in French and she refuses to eat butter made in Germany, muttering about French cuisine.
I arrive at JFK and brace myself for my encounter with customs. Those people scare me.
Scary-stern looking Escobar makes me look into a camera, take my finger prints and asks me what I do for a living. I tell him I'm a teacher. The following conversation ensues:
Escobar: "So you teach, huh? Little kids, big kids?"
Me: "Big kids, university students, actually."
Escobar: "Well, look at you! What topic?"
Me: "Psychology."
Escobar: "Oh man, I'm getting real scared of you now."
Me: "Okay, I'll walk on then."
Escobar: "You do that. Happy Holidays miss."
 I take a car-service to my apartment. I'm so tired from flying and French Cuisine Lady I only half realise how easily I could have been murdered. But Perhaps-Murderer was nice, telling me about his American Dream and showing me pictures of his daughter.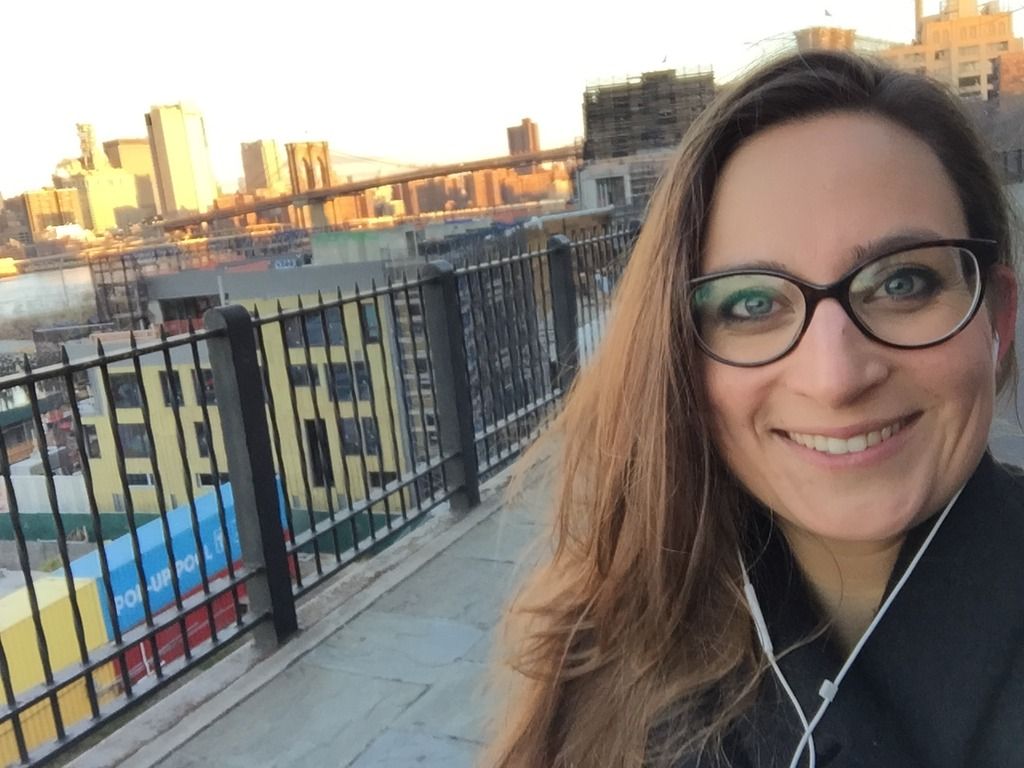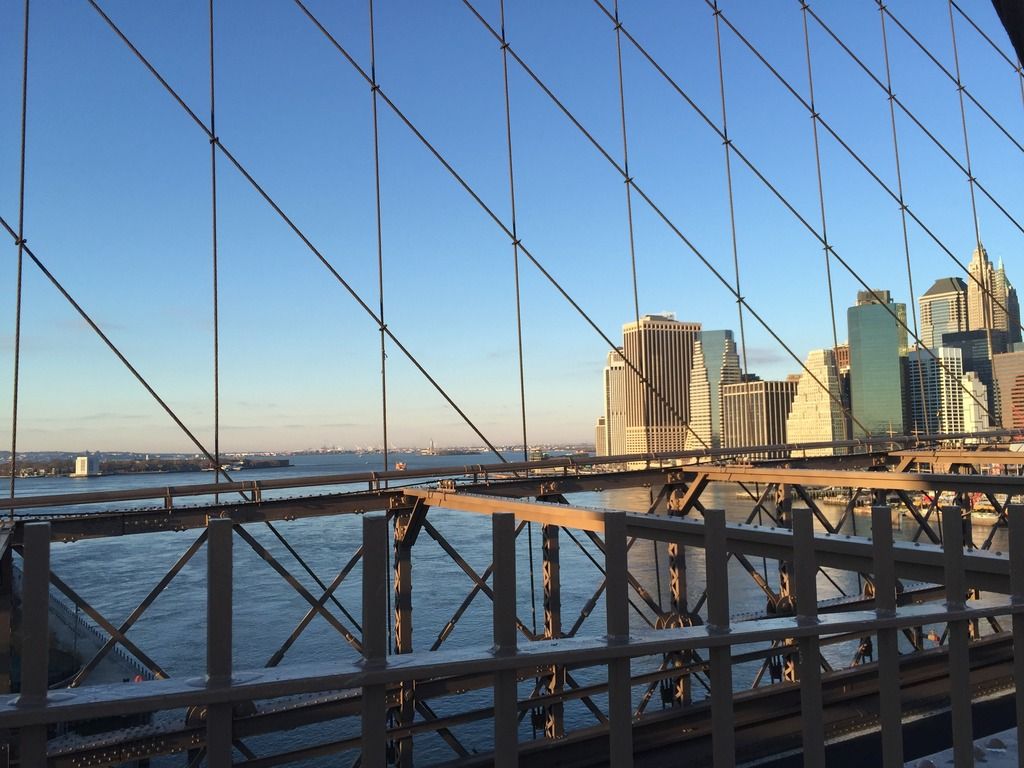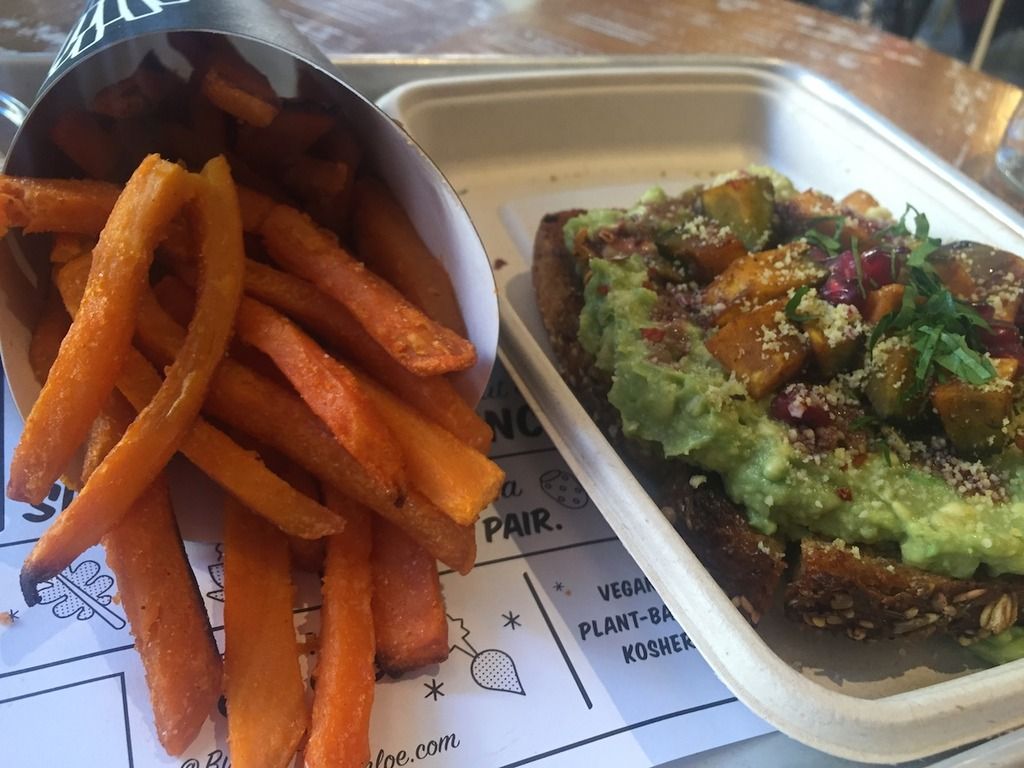 SUNDAY
Oh my God, I wake up in New York!
Aaaaaaat 2:00 in the morning. Hashtag the jet lagged life.
At 6:00 I take a shower, have breakfast and walk to the Brooklyn Heights Promenade. I fall in love with the view.
I get lost in Brooklyn because I think I have a sense of direction (I don't) and I can do this without GoogleMaps (I can't).
But finally! I find the Brooklyn Bridge and cross it. It's really cold, but sunny and although I was warned the Brooklyn Bridge would be super crowded, it isn't at 8:15 in the morning. #protip
I wander around the Wall Street area. I walk by the Stock Exchange, the Bull, the Freedom Tour and the 9/11 Memorial before I get coffee at La Colombe.
I actually wanted to go by Crumbs Bakery, but in some absurd plot twist A LOT OF THINGS ARE CLOSED HERE ON SUNDAY.
I take the subway uptown, get off at Central Station.
I walk up and down some of the avenues and get a juice.
I end up going to By Chloe for breakfast (thanks Merel for the tip!) and have THE most amazing vegan food I EVER had.
So much flavour, so rich. I have avocado toast with pumpkin and pumpkin seed and pomegranate drizzle, as well as sweet potato fries with chipotle mayo. In-sane.
It's only 10:30 but I'm dead. SO dead. I sit there eating my fries and reading Winter, but all I want to do is sleep.
I take the subway back to Brooklyn, walk around (read: get lost some more) for a little while before I crash on the couch with Netflix.
I order in grilled veggies and a veggie-burger, and go to bed at 21:30. So hardcore.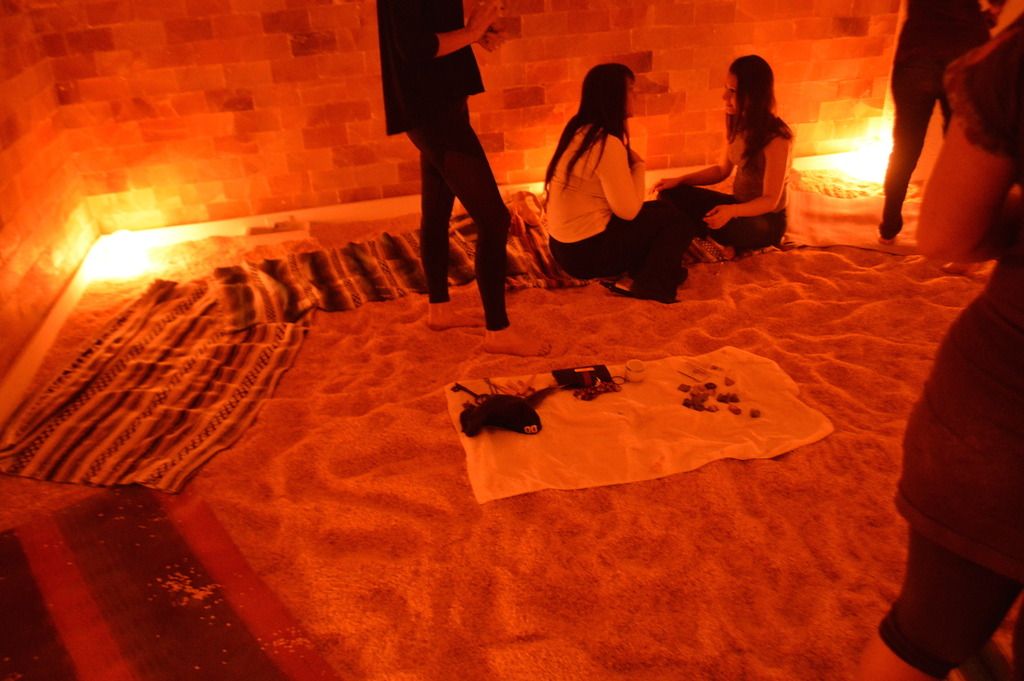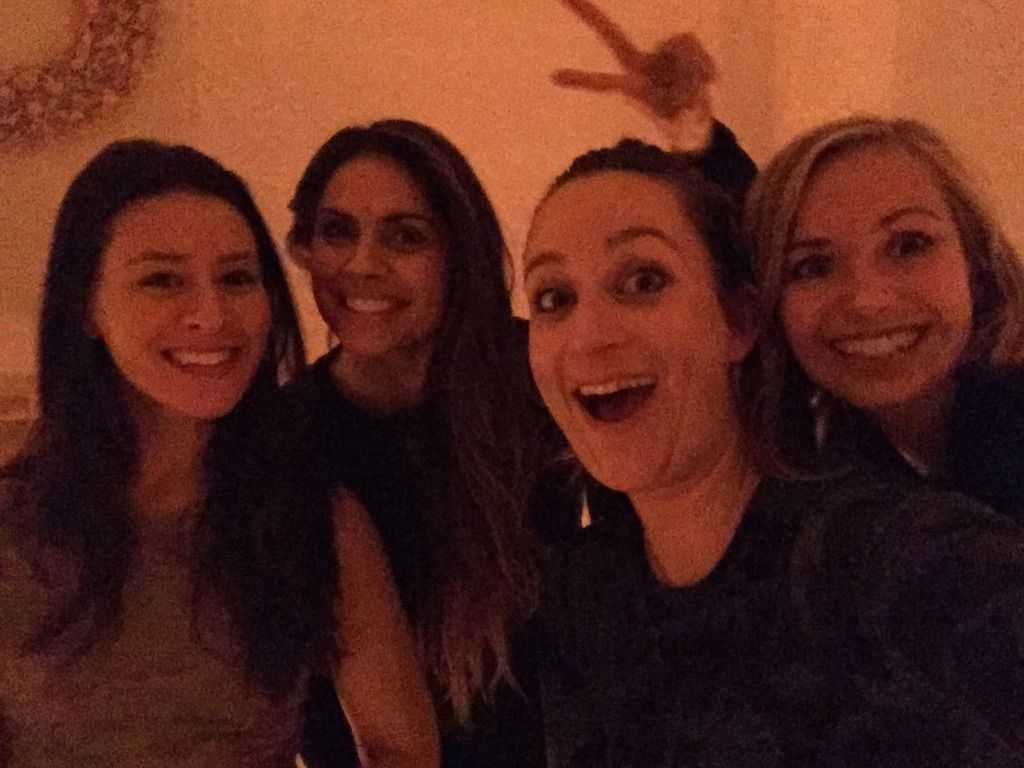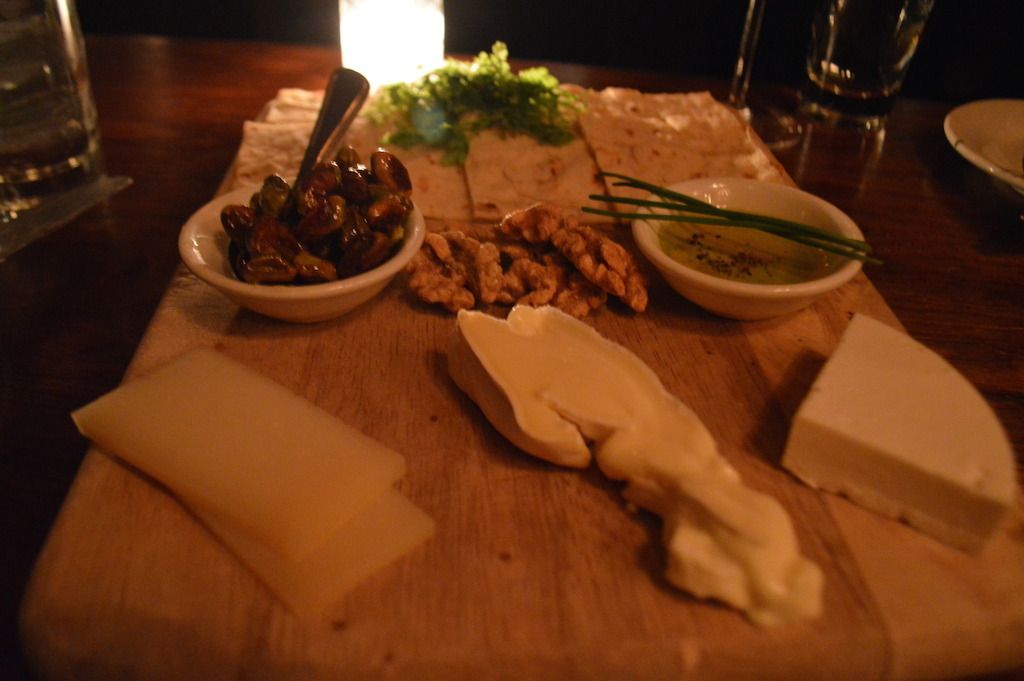 MONDAY
Time to go to Bikram yoga in Brooklyn! The studio is above two deli's and smells like garlic. Fantastic.
It's rainy today, but I can't resist walking back to the Brooklyn Heights promenade.
Afterwards, I go into the Garden of Eden deli and get a mozzarella sandwich that makes my day.
I spent the afternoon in the apartment, reading Winter, writing and chilling with the cats. I don't like being on the move an entire day, I like Intermezzos of Chill where I am at home base, drinking tea and relaxing before having more shenanigans. I like breaks.
After, around 9:15, we go have dinner and drinks at Employees Only, Anna-Belle's idea. The drinks and food are epic but being surrounded by drunk people is not the best thing to do when being fully sober and all centered from meditating.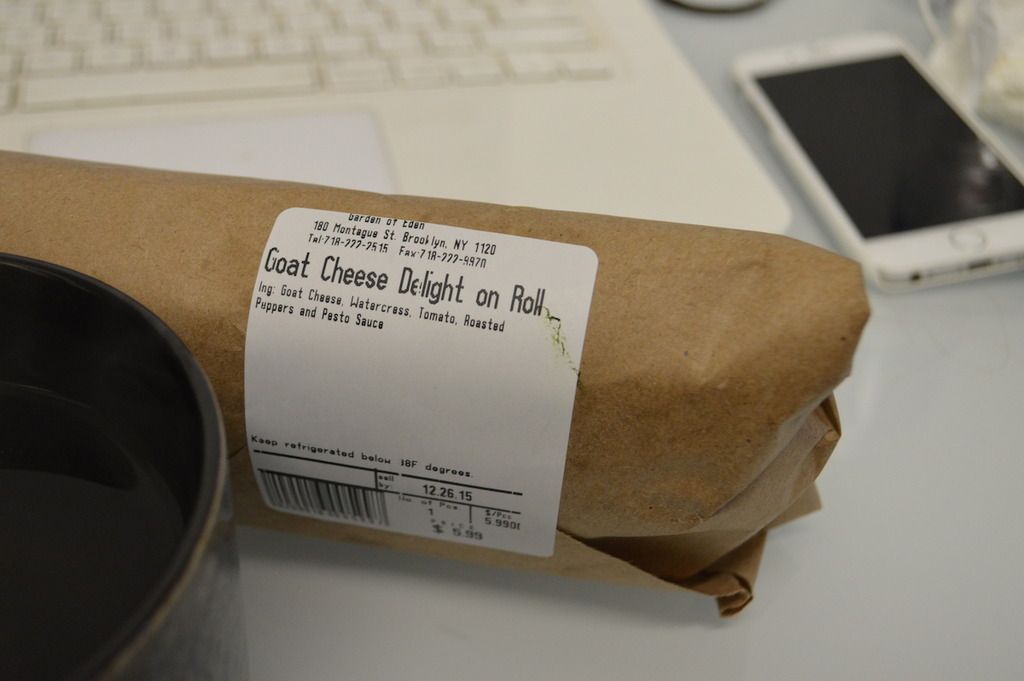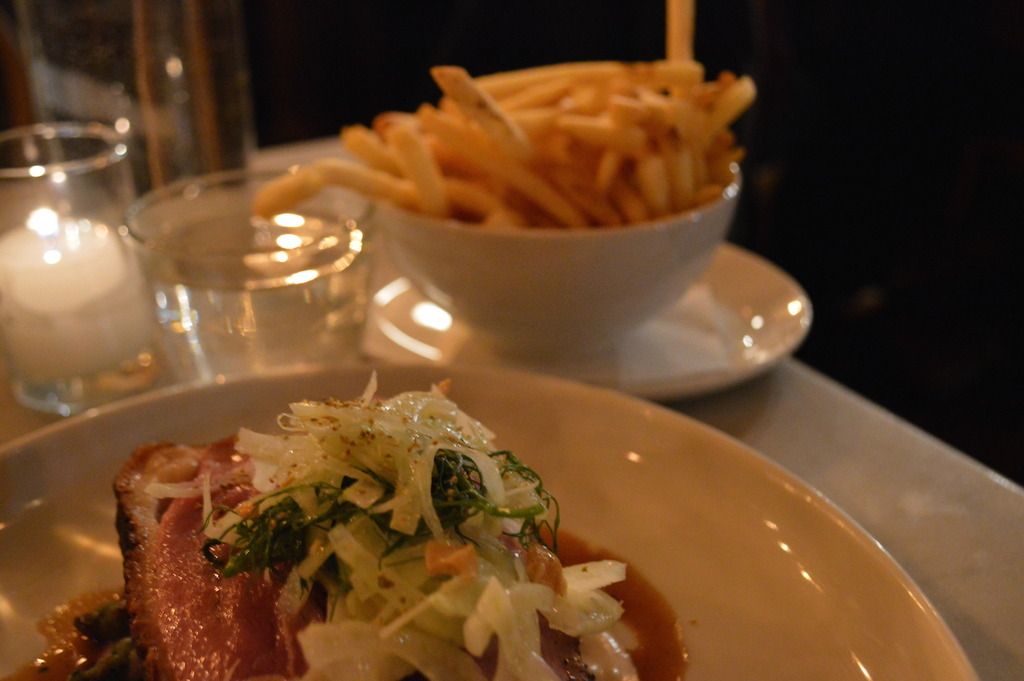 TUESDAY
I do another Bikram class at 10:00 AM.
I walk back to the apartment for a shower and get another sandwich from the Garden of Eden on my way back. What? If I like something, I like something!
During the day I write, and in the evening I go have dinner at Five Leaves, courtesy of my friend Kevin who was in New York earlier this year.
Amazing dates in bacon, great duck and truffle fries. Unfortunately the evening ended with the worst cappuccino anyone ever had the audacity of serving a human. Plus, the staff was snooty. Good wine, though.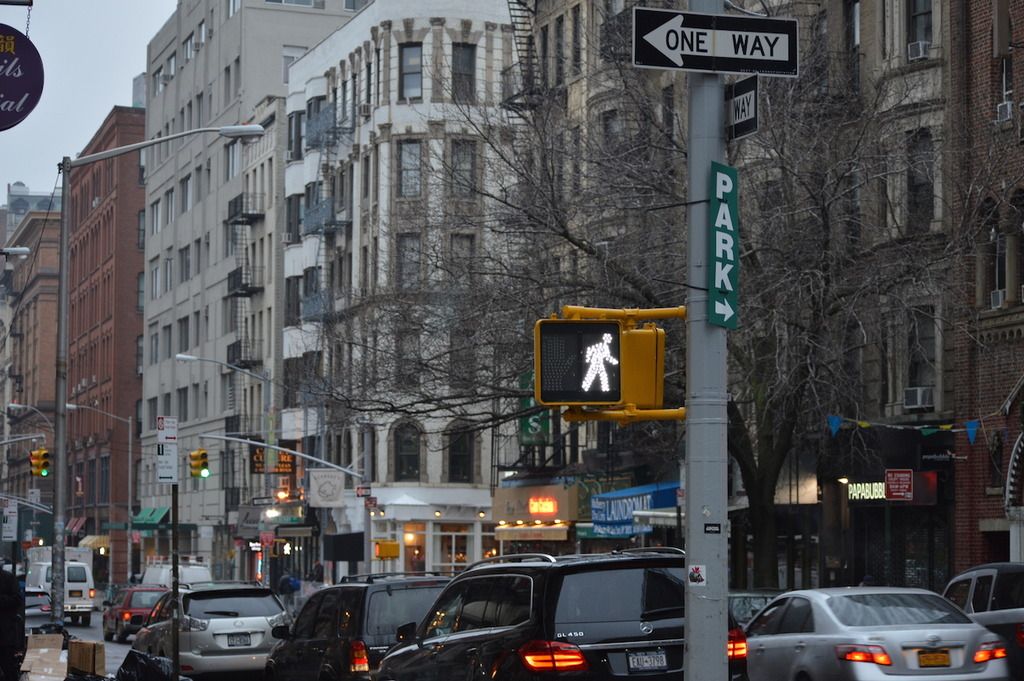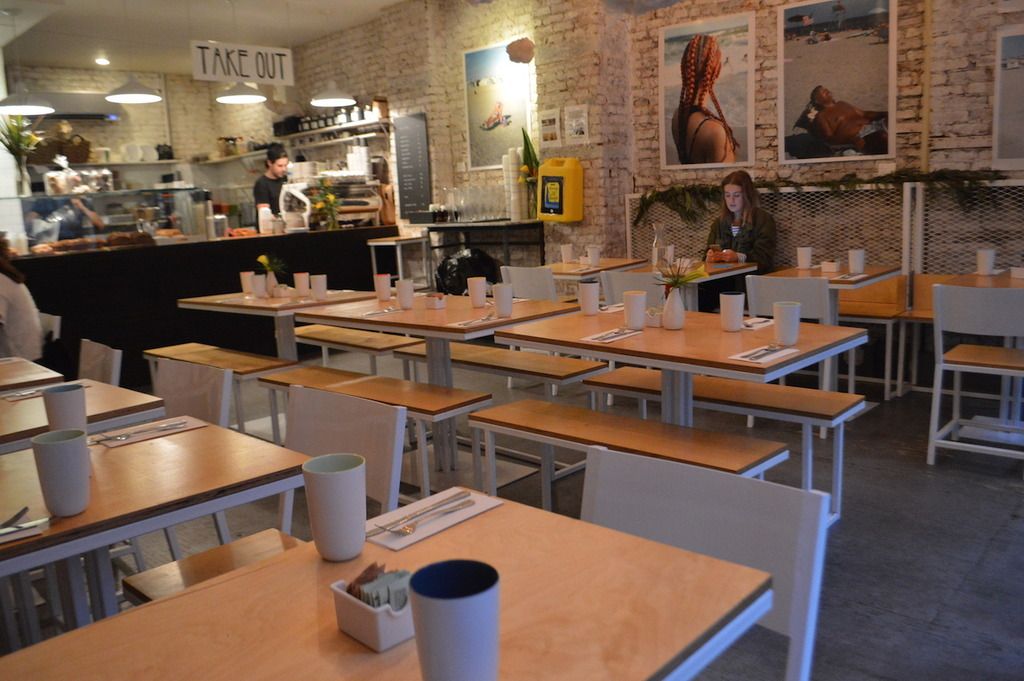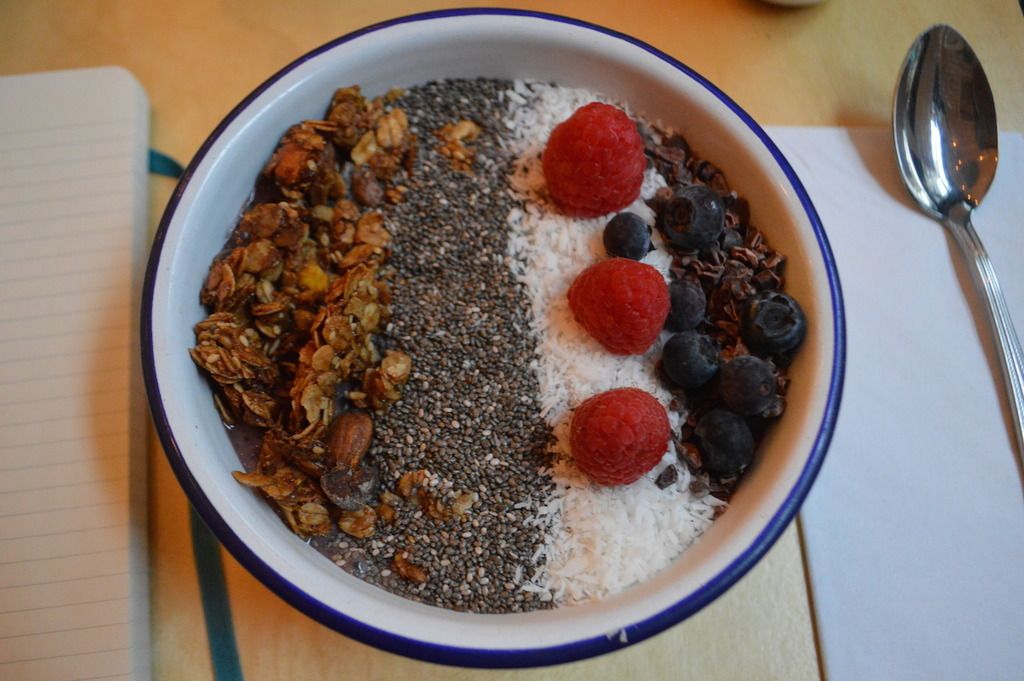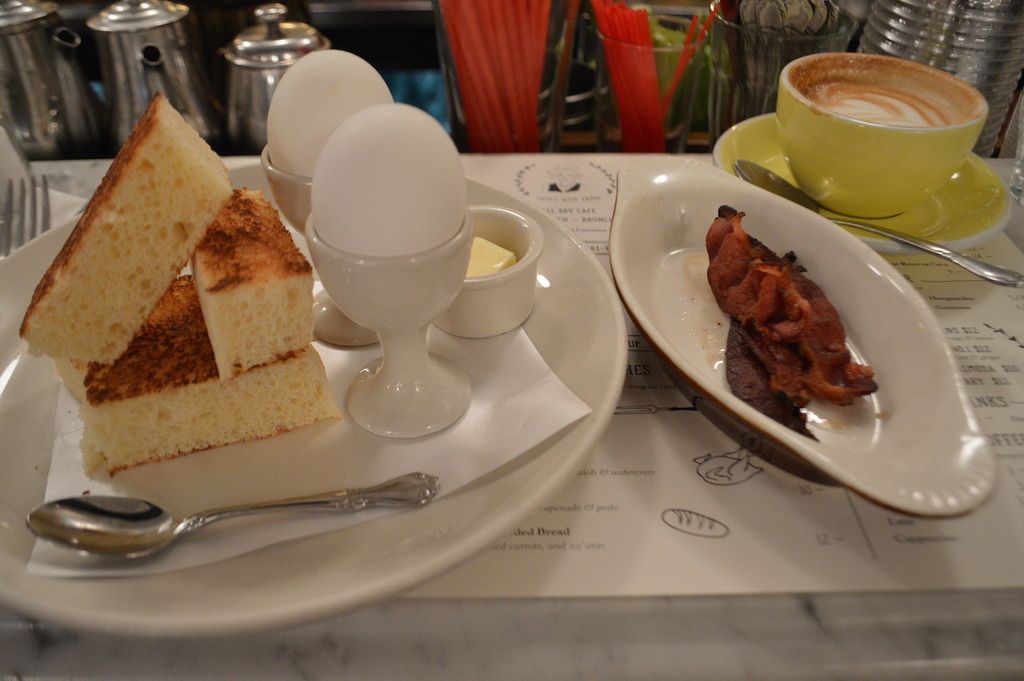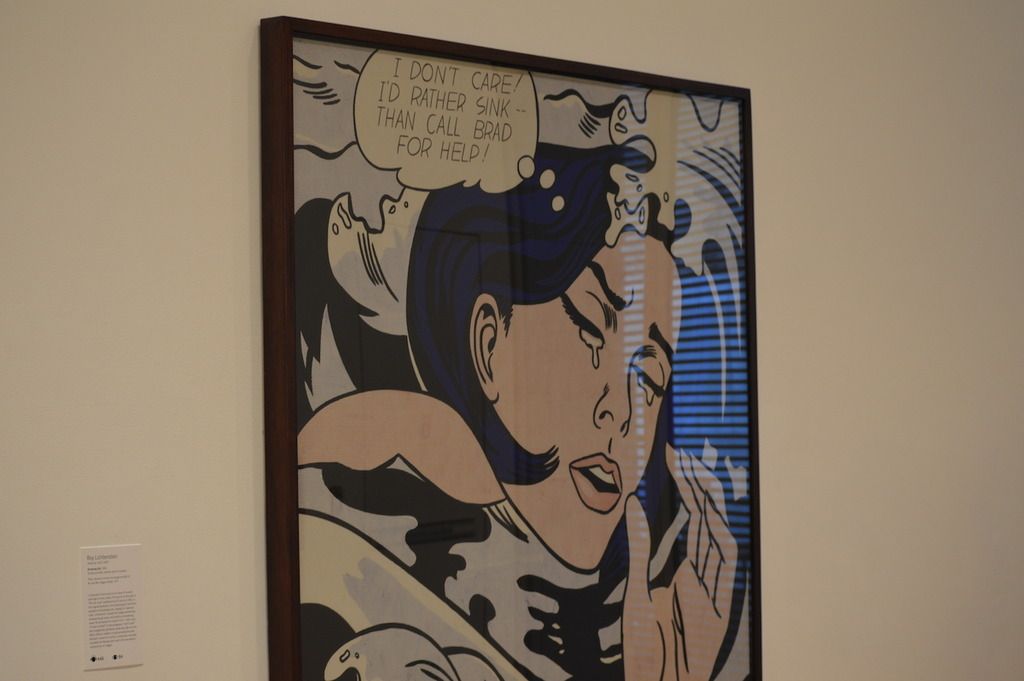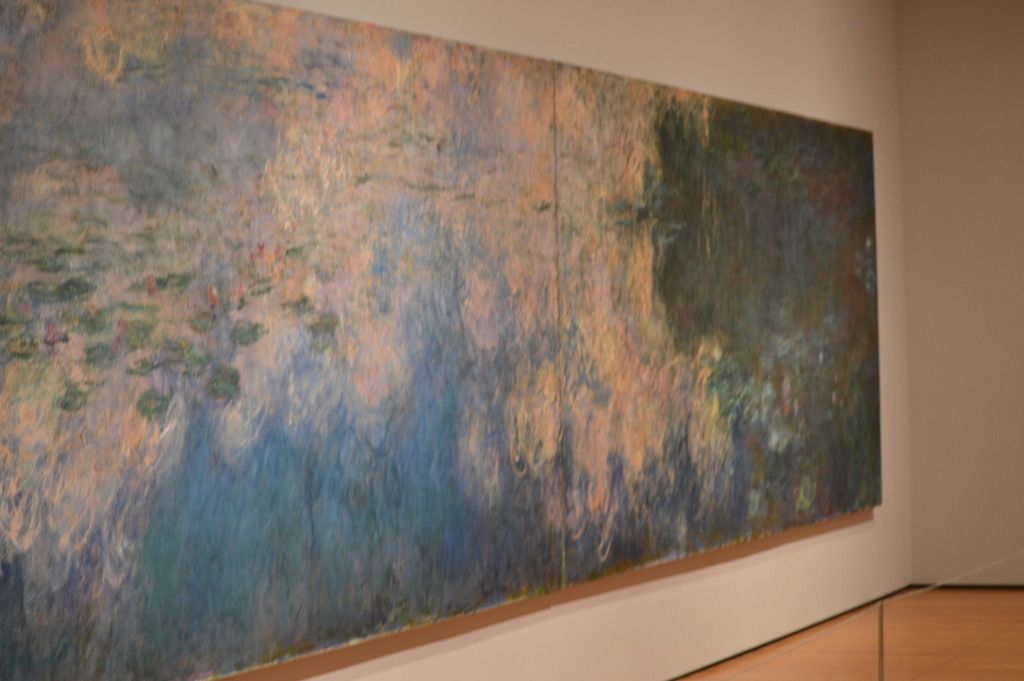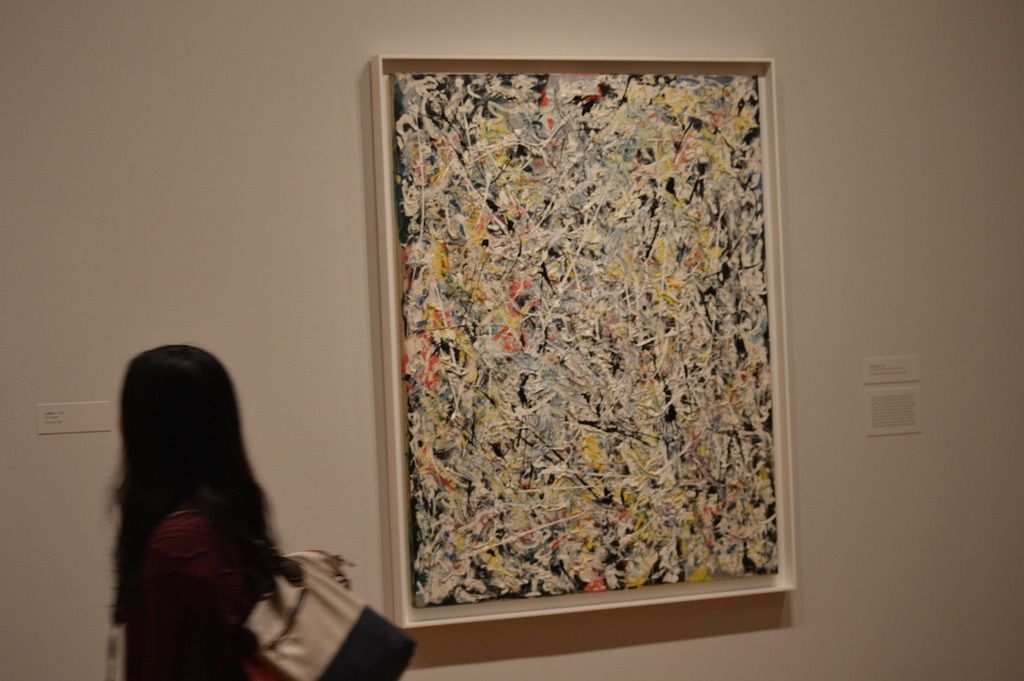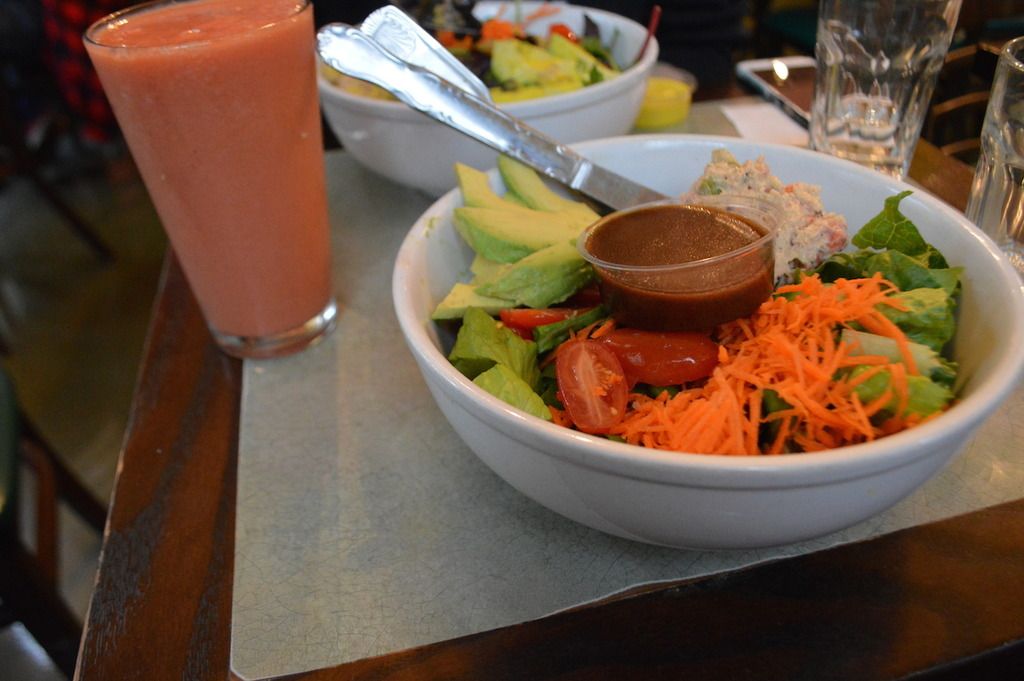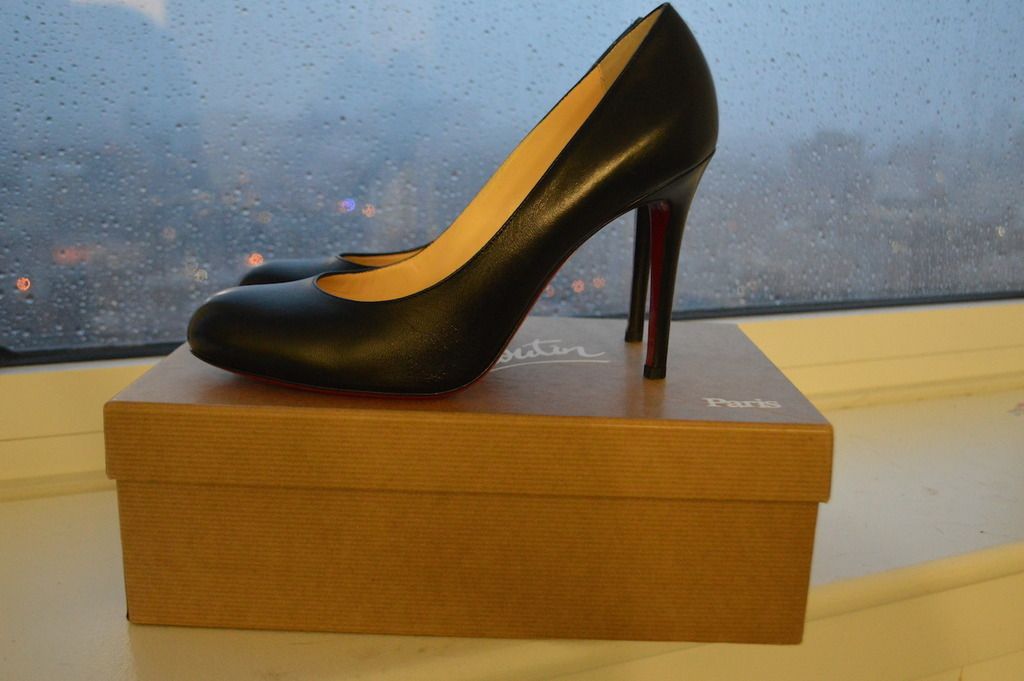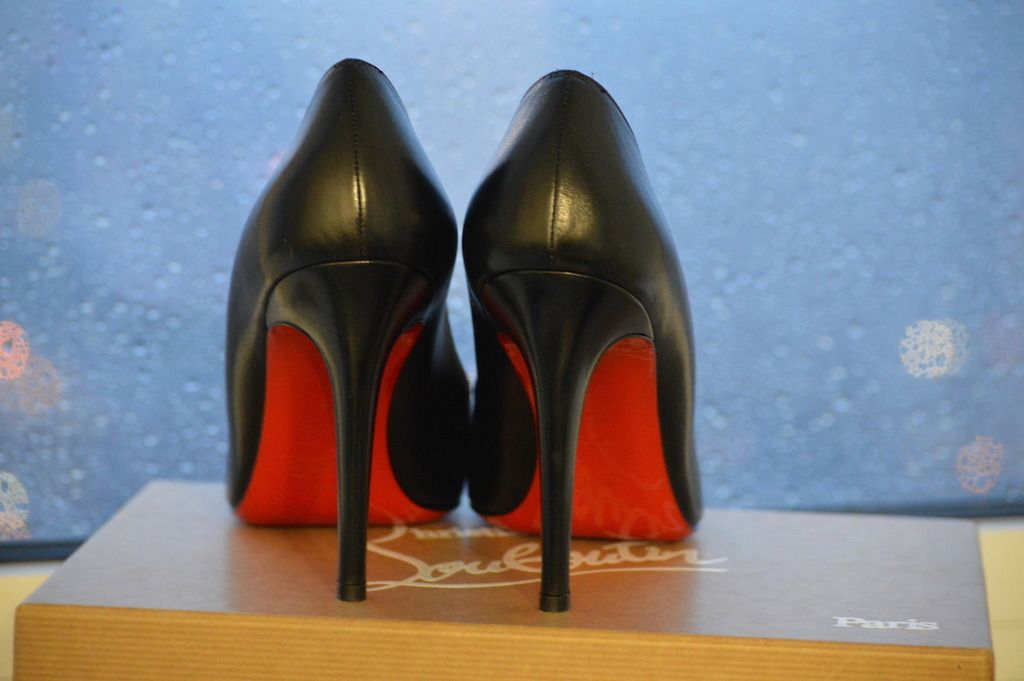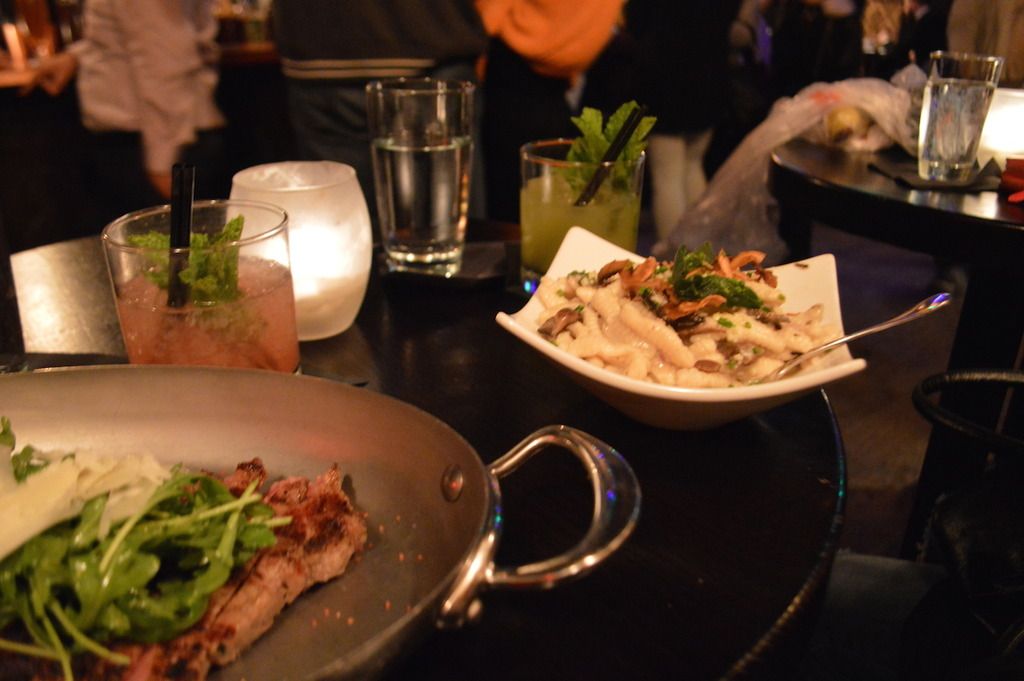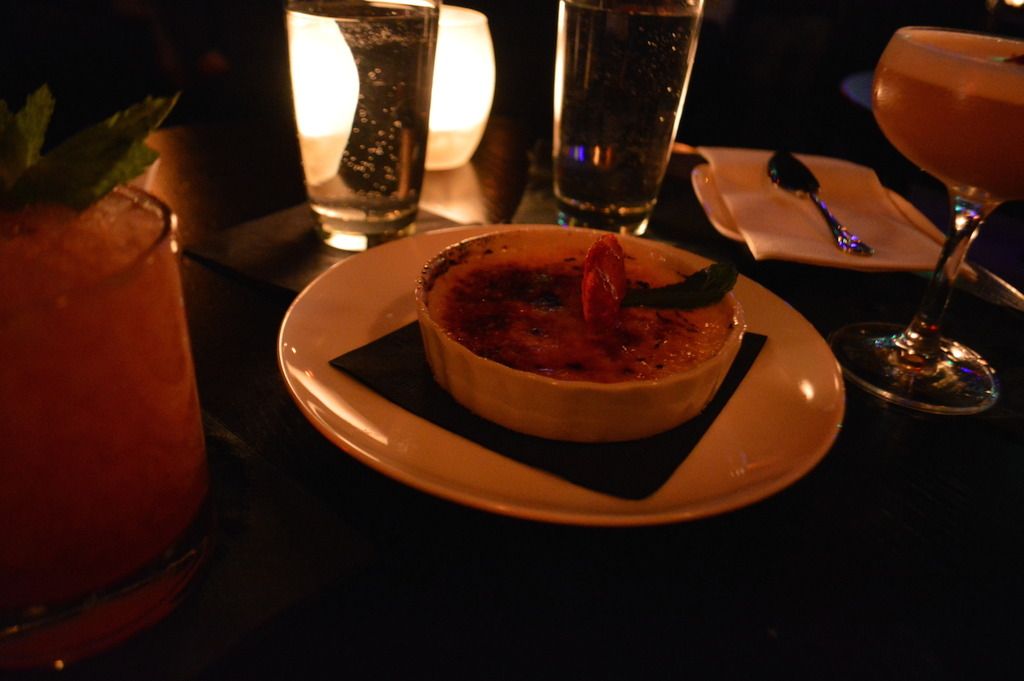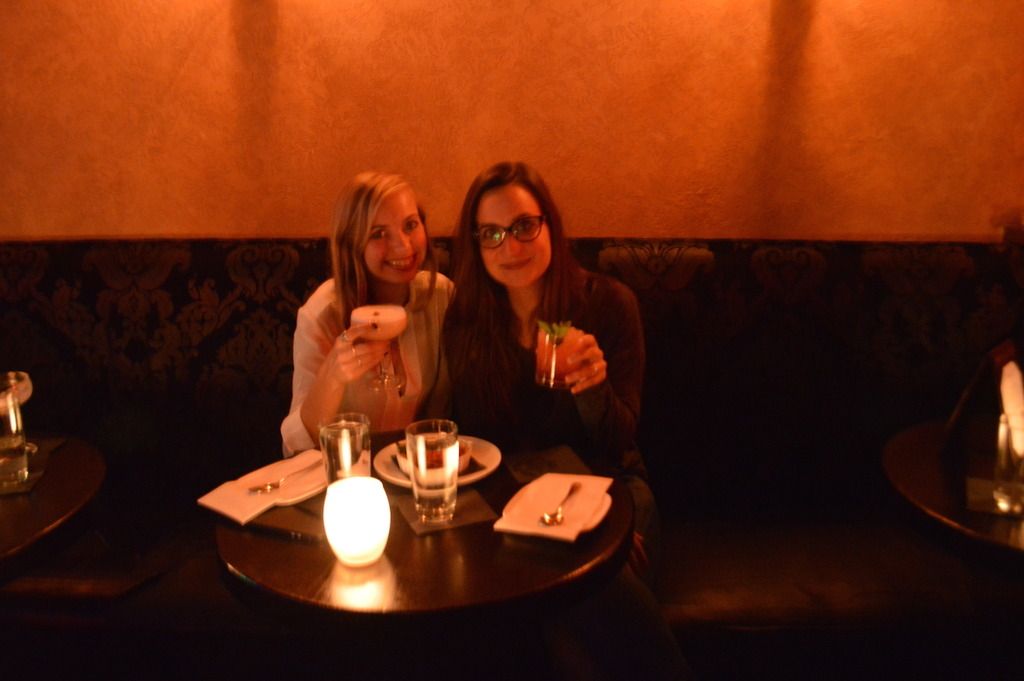 WEDNESDAY (ACTION PACKED DAY)
I go into Manhattan real early because I want to have breakfast at some of the places recommended to me.
First, I go have an acai bowl at Two Hands Cafe (source: Anna-Belle). It's not my thing. If I want to have a smoothie, I'll just gulp it down and have a purple/red/green mustache for a couple of hours, not scoop ice-cold mush with granola hippie crap ornaments into my mouth.
More my jam is Jack's Wife Freda (source: Anna-Belle). Oh. My. God. The most perfect soft-boiled eggs, toasted challah bread and home cured duck bacon. It is amazing.
Time for the MoMA: Metropolitan Museum of Modern Art! I accidentally bring my wrong camera lens inside so I have to make pictures from a million miles away.
But the art in the MoMA blows my mind. I see Pollock, Picasso, Liechtenstein, Dali, Monet, Kahlo, and some more recent pieces that are brilliant, thought provoking and/or beautiful. I highly recommend checking out this museum.
After the MoMA, I do something that has been on my bucket list, my wish list, my grocery list, whatever other list you can think of. I go into Saks, take the elevator to the 8th floor, shoe department and buy myself a pair of Christian Louboutins.
(It takes me a good four hours to get over the initial shock of actually finally doing this. After that I'm just really happy with my shoes and proud I can buy them for myself.)
I go have lunch with Ruby from the Numinous! Ruby and I know each other from an interview she did with me, some articles I wrote for her and just the usual Internet stuff. We have lunch at a vegan yogi restaurant and talk for a couple of hours about spiritual stuff, book writing and life.
I meet Anna-Belle at Peloton Cycle, because I'm going to take Robin Arzon's spinning class with her! She is intense, but very motivational. Her Instagram and Tumblr are fantastic motivators.
I love Robin, but she is actually Lin's long-time hero. So I ask her to make this video for her, wishing her good luck on the Paris marathon!
We also took this picture and I will never stop laughing at how DORKY I look next to these two fit goddesses. Note to self: DON'T SLOUCH/Actually TRY to look fierce, okay?!
After spinning, Anna-Belle and I go to Bathtub Gin (my colleague recommended it!) where I have the most amazing rib eye I have ever eaten. And a Grand Marnier Creme Brûlée.
I also really enjoy Anna-Belle's company, it's very nice to have such a cool Rent-A-Friend when you're alone in a big city.
We decide Anna-Belle is tagging along to yoga with me the next morning and we'll do coffee/brunch after.
Happy and tired I fall into a bed with cats that night.
THURSDAY
(No pictures, because lazy and did not bring my camera)
The weather is crazy. It is 14 degrees and I walk outside in a t-shirt and a scarf.
Anna-Belle takes yoga with me at the Bikram studio. Apparently that morning it is omelette day and I am lying directly under the fryer downstairs. Lovely.
We go have brunch at Friends of a Farmer, a really lovely place with the best apple pancakes ever.
Because we like to work-out AND we like to drink, I have my first Bloody Mary with Anna-Belle! I really like it, and I feel because of the tomato juice it is a healthy, responsible daytime drink. #slighthintofsarcasm
Also, I like to extend the 'first we work out, then we drink' routine to the Netherlands and to my friends at home. Lin, are you reading along? Get with it.
Anna-Belle goes home to grab her suitcase and leaves to see her family in Belgium that day, so no more Rent-a-Friending for me the upcoming days. But that's alright, I'm fairly certain I will see her again.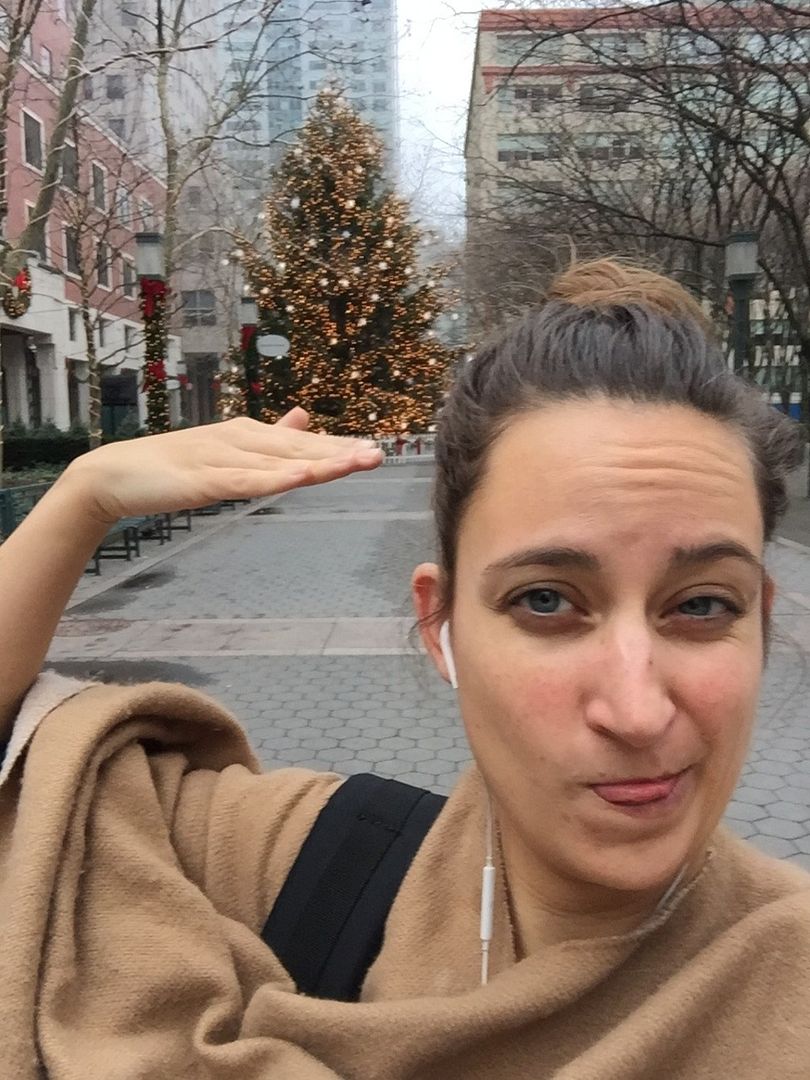 FRIDAY
I got to yoga and walk through an absolutely deserted Brooklyn.
I watch Netflix and order in sushi.
After all, this might be the only Christmas EVER I spend alone.
Not counting the cat who is disintegrating the Christian Louboutin bag and the other one who sneezed ALL OVER my laptop screen. And my arm. I was laughing and gagging at the same time.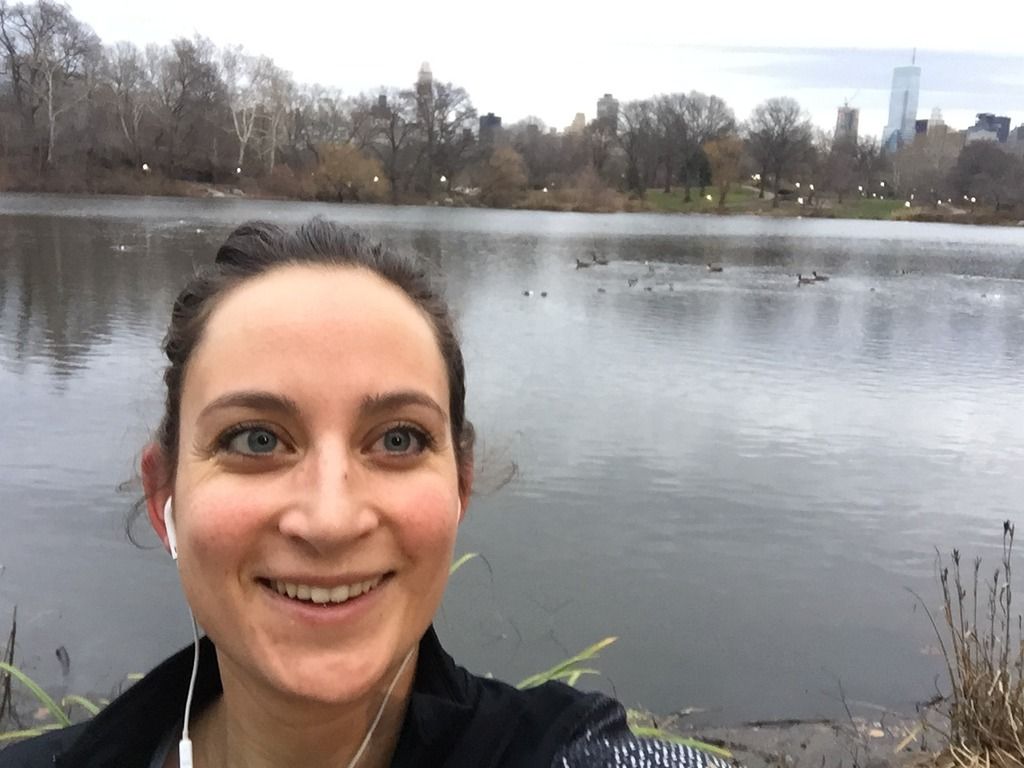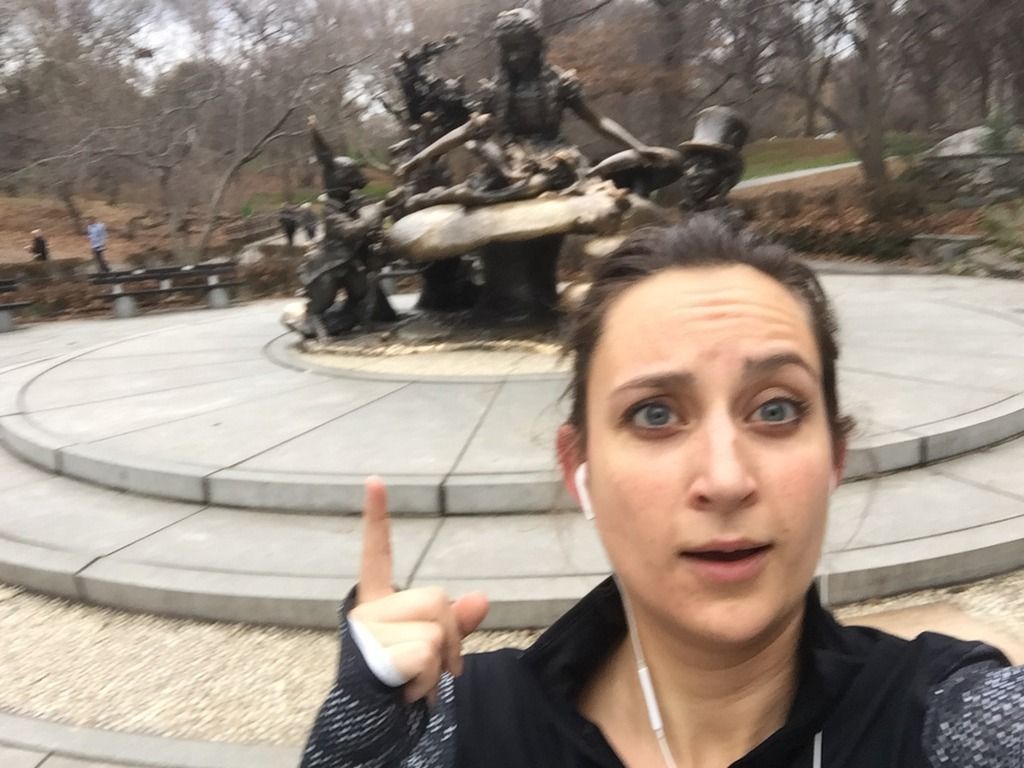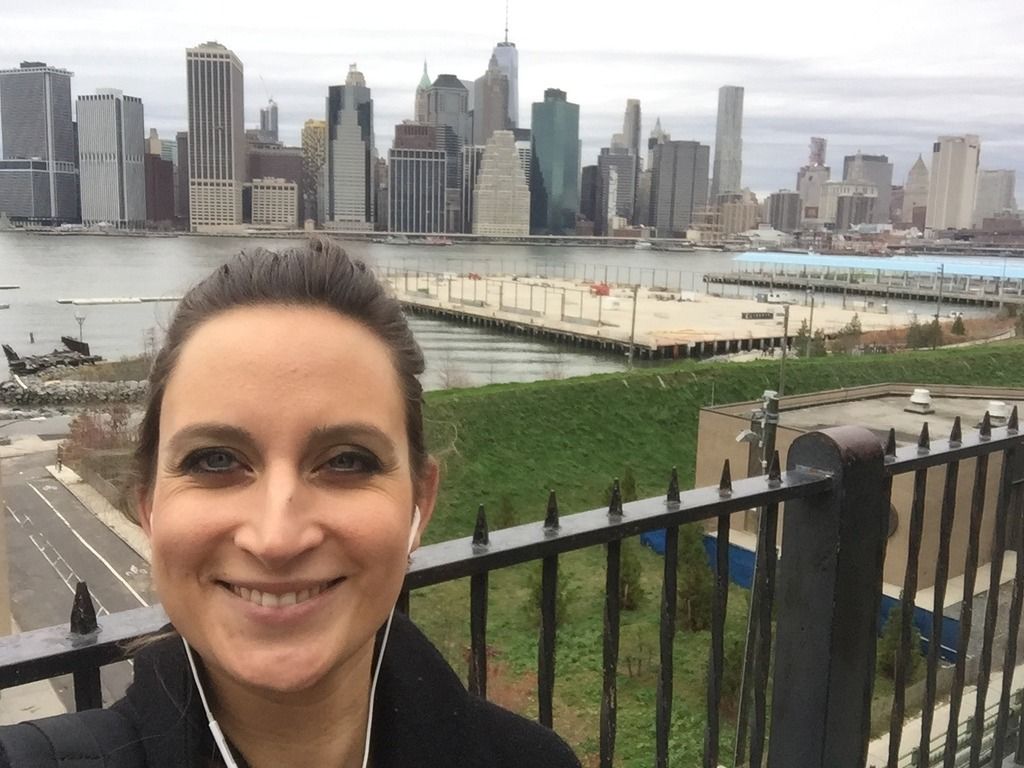 SATURDAY 
I go for a run in Central Park! It's gorgeous, the green surrounded by the big buildings and skyscrapers, lots of hills and the highlights like the Central Park Zoo and the Alice in Wonderland sculpture are awesome.
I get a coffee at Starbucks and take the subway back to Brooklyn.
I go have brunch on my own this time, back to Friends of a Farmer.
I have the omelette with Brussel sprouts, blue cheese and bacon.
The bartender, once I say I'm from Holland, starts talking to me in perfect Dutch. He lived in Amsterdam for 5 years and talks to me about biking.
An elegant woman with grey hair and a look of determination on her face comes in, walks to the bar and says: "Mimosa please, and easy on the OJ."
Turns out she is meeting her family for lunch and she needs A DRINK.
We talk for a while and I'm cracking up at every line that comes out of her mouth. She's a sassy women from Atlanta, Georgia and doesn't care who knows it.
I have a mimosa with her because she is everything I want to be when I grow up.
I walk the Brooklyn Heights Promenade again because I am in love with this view.
Back at the apartment, I chill, write and go to bed early. Sunday is my last full day in New York and I have it all planned out.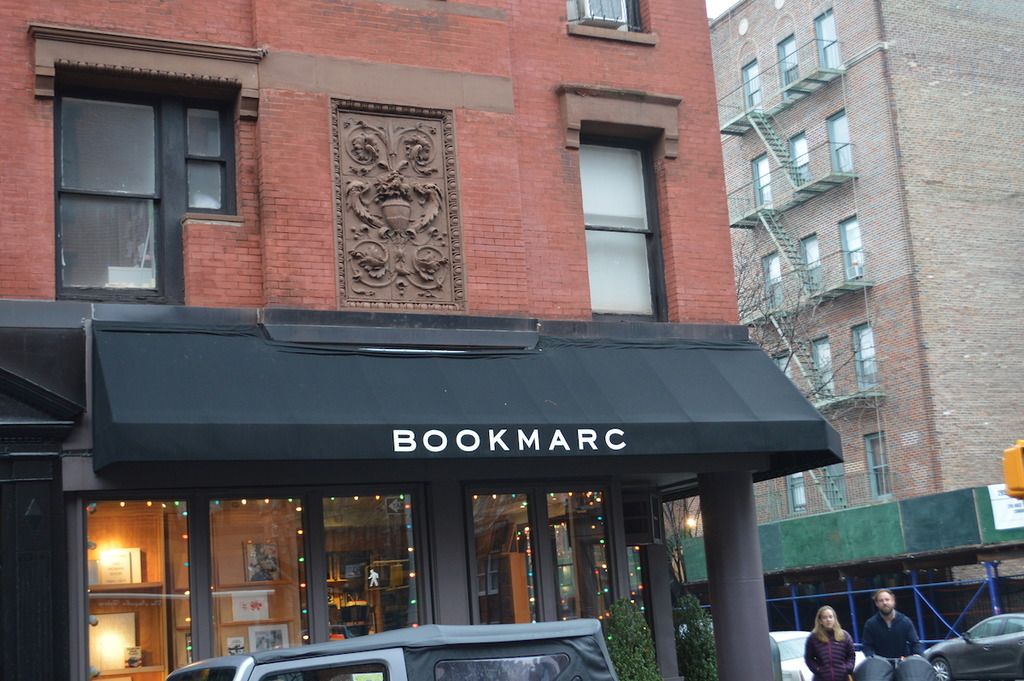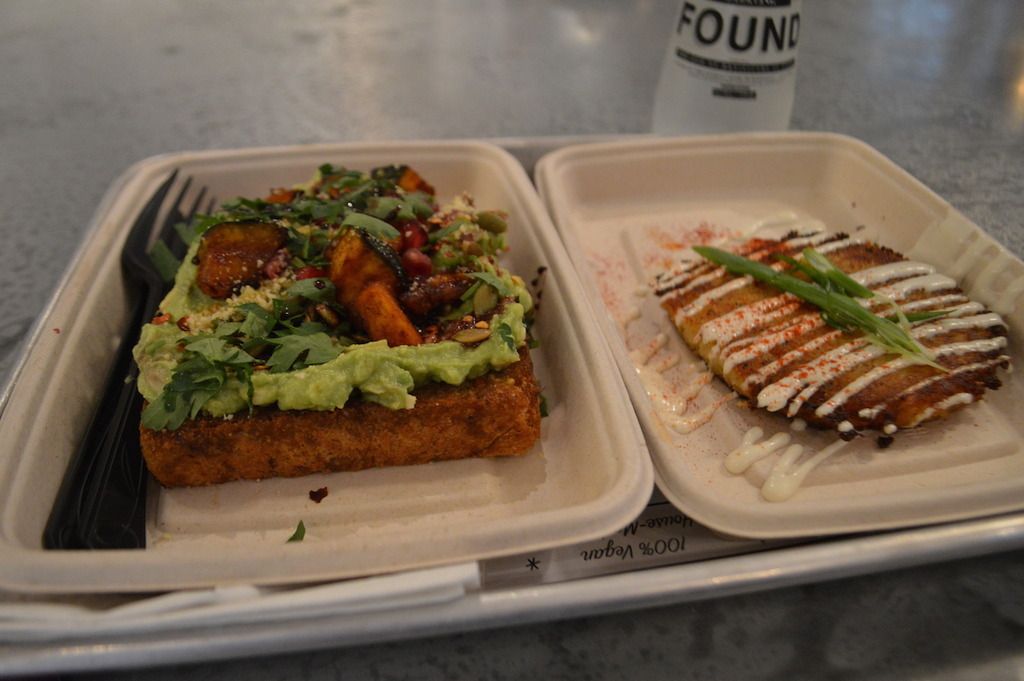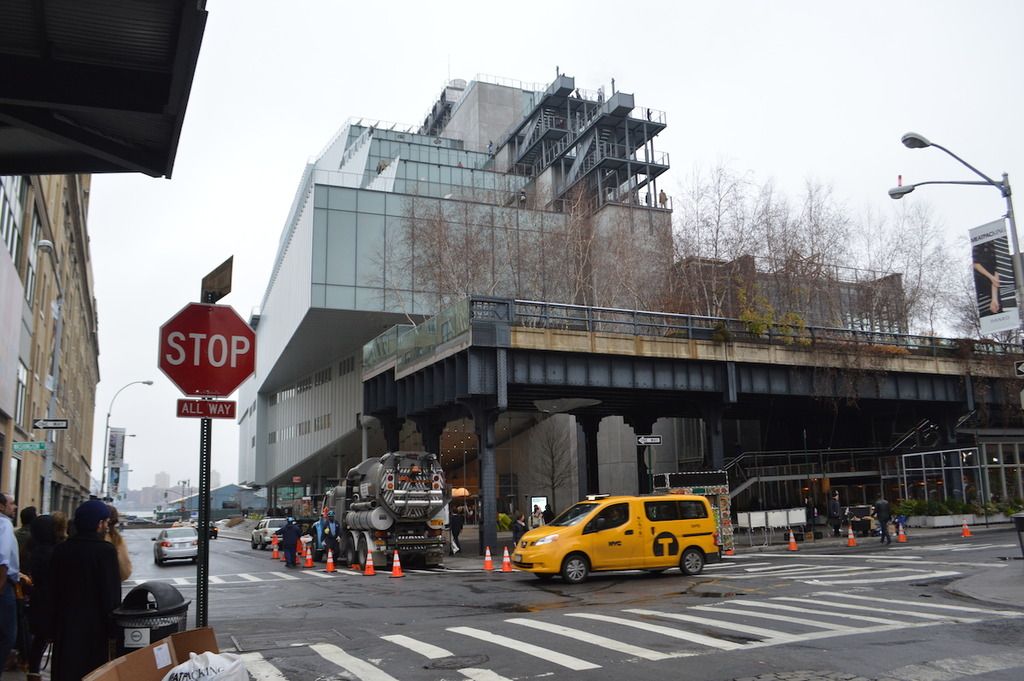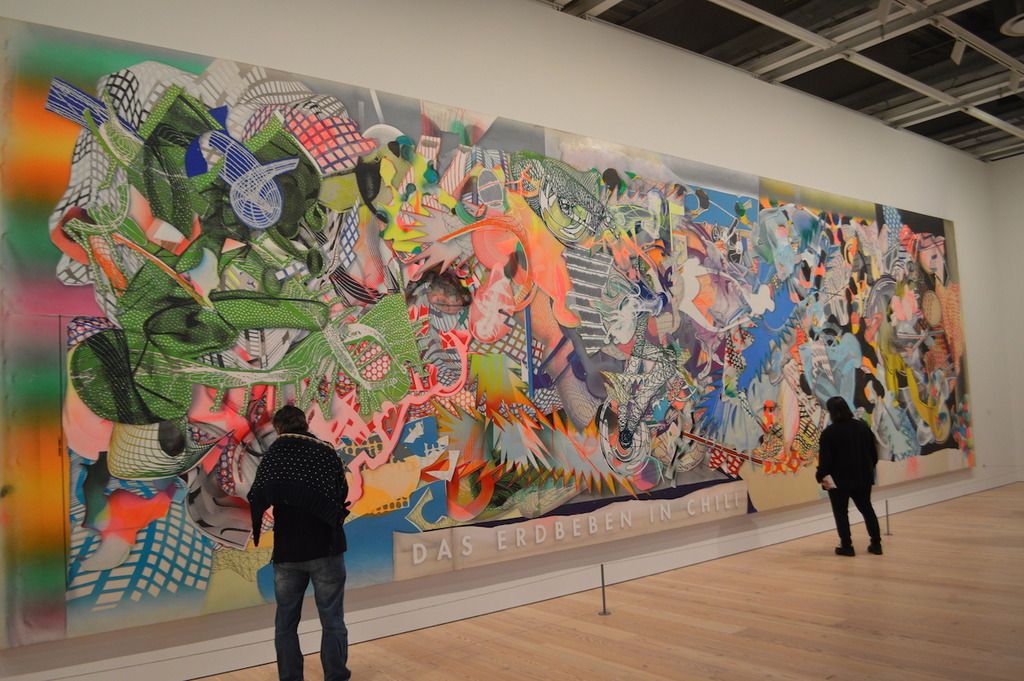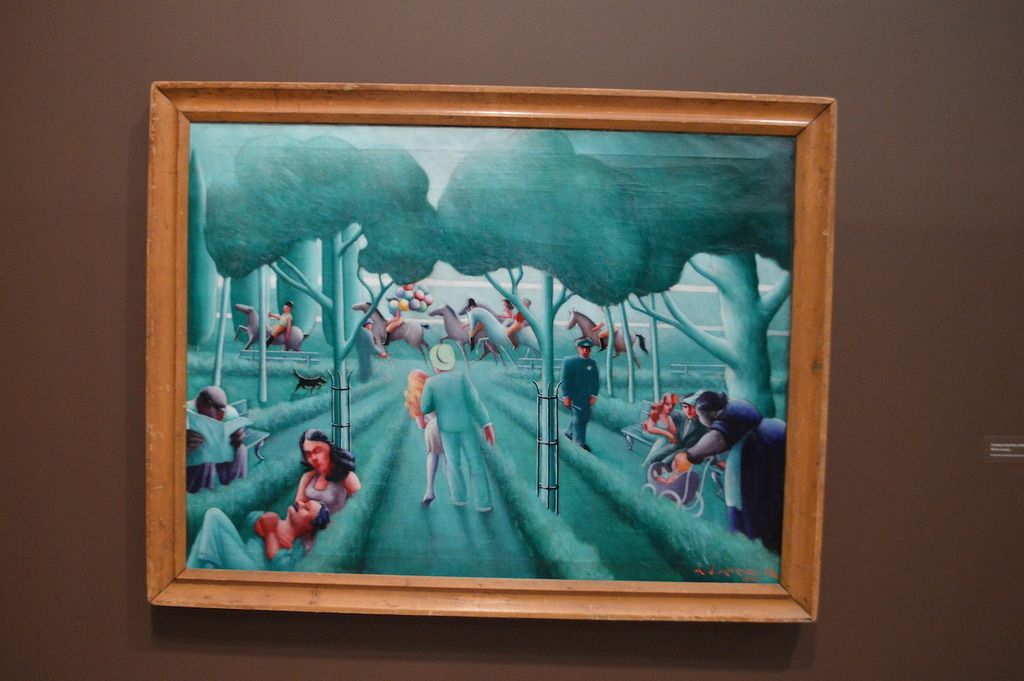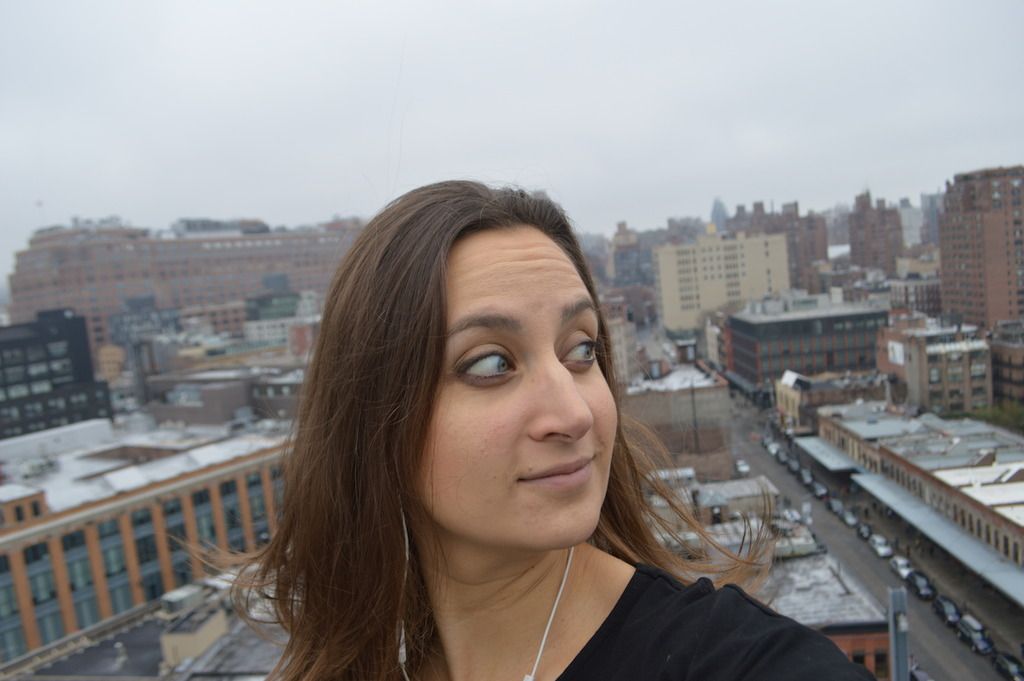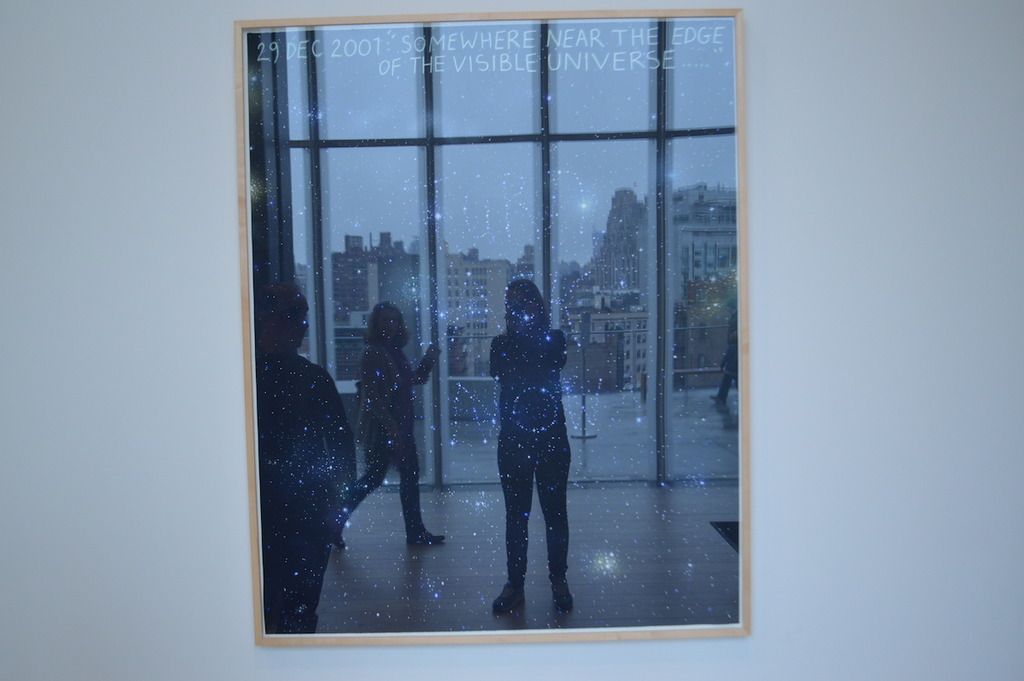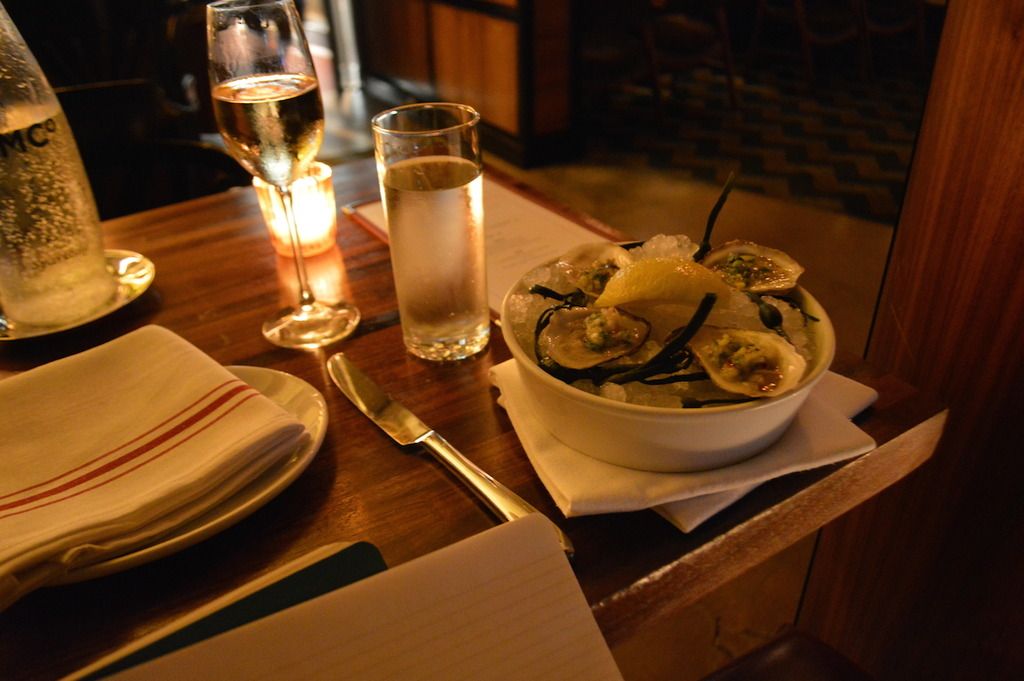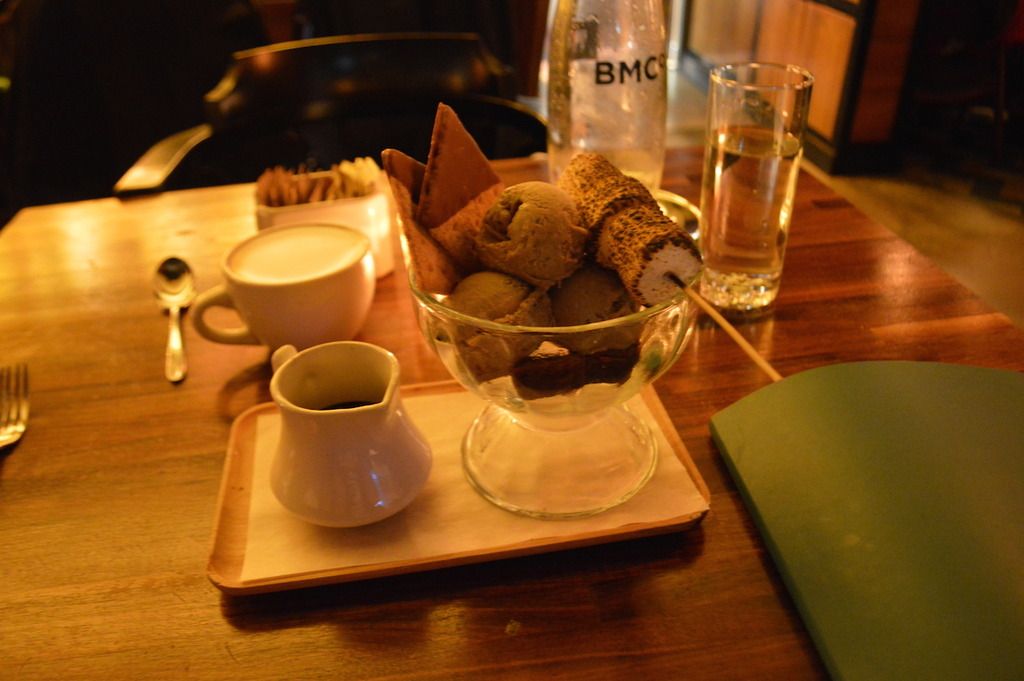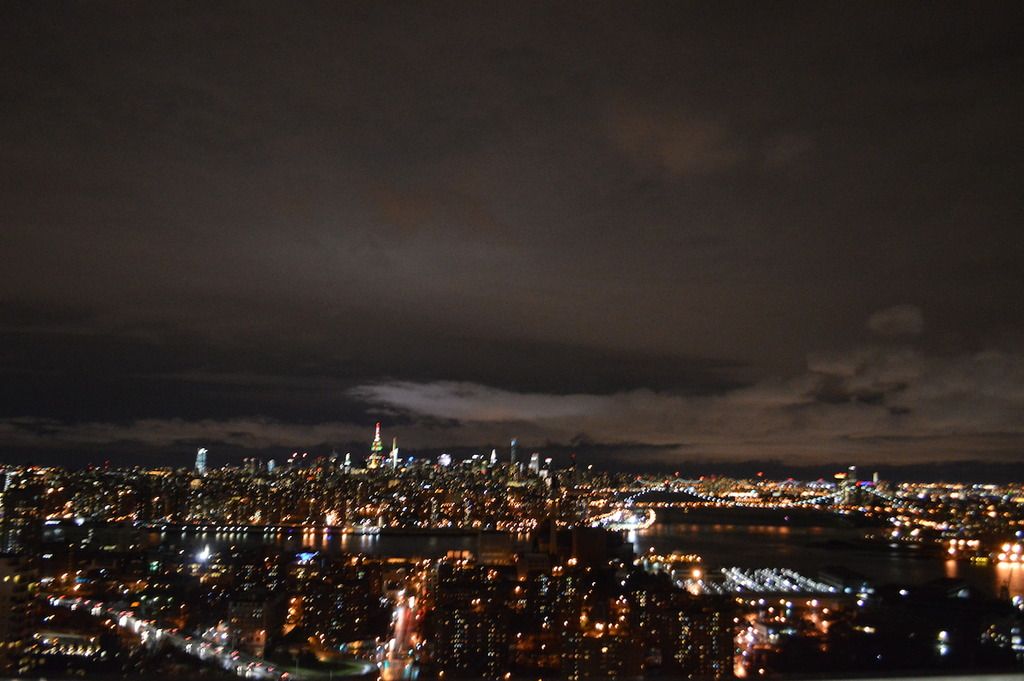 SUNDAY
First things first: I go for another spinning class at Peloton Cycle. I had another credit left on my card so hell yeah cycling in place!!
Afterwards I'm so hungry I throw my healthy Green Juice And Morning Dew breakfast plans in the wind and go to Jack's Wife Freda for more duck bacon.
But there is a line and I hate lines, so I just walk to my next destination (Whitney museum!) with a coffee from Gasoline Alley.
However, I pass through Bleecker Street! And By Chloe is in Bleecker Street!
Hallelujah. I go for another avocado on toast and a quinoia hash brown. Best vegan food I have ever had, and Top 5 Best Foods I have ever eaten ever.
I do a 30-minute walk through cute streets with cute shops to the Whitney museum. Except for going to Bathtub Gin I hadn't been to this part of Manhattan before, so I look around and take some pictures.
The Whitney museum is great too (but not as cool as the MoMA!), the building and the view from the top floor are pretty nice.
I go into Chelsea Market and a get a horribly disappointing lobster roll.
I take the subway back to Brooklyn, get some groceries and take a nap.
In the evening, I go to the Bowery Meat Company (another gem from Anna-Belle) and have an amazing last dinner in New York. The ambiance in the restaurant is fantastic and the waiter is super nice, telling me about the restaurant and what they serve.
I have champagne and oysters, lamb and rosemary potato and a S'More Sundae. All things blow my mind.
In the cab home we drive over the Manhattan Bridge and I look at Manhattan, the Brooklyn Bridge and see the Statue of Liberty. I had a great last evening, but I still feel sad.
I realise I hate leaving. And I never hate leaving. I always want to go home.
MONDAY
I run into Brooklyn to raid the Sephora. Helloooooo highlighter heaven.
I take a cab to the airport.
On my flight I am next to a teeny tiny Portugese women who does not speak a word of French or English and who is very confused about the reading lights.
I try to sleep, but I can't sleep when I'm traveling. It's one of my many defects.
The 1-hour transfer at Paris would have killed me if it were not for free Wi-Fi and reading The Martian.
At 09:30 in the morning,my parents welcome me at Arrivals and I hang out with them all day.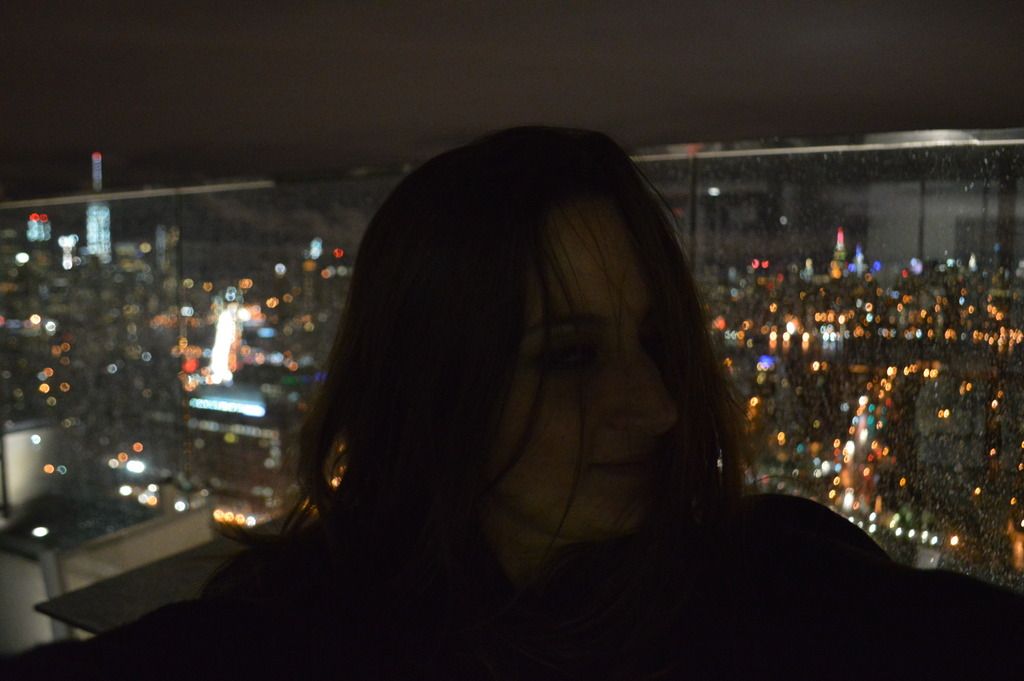 Thank you, Eva. Thank you, New York. See you next time.
Ok bye.