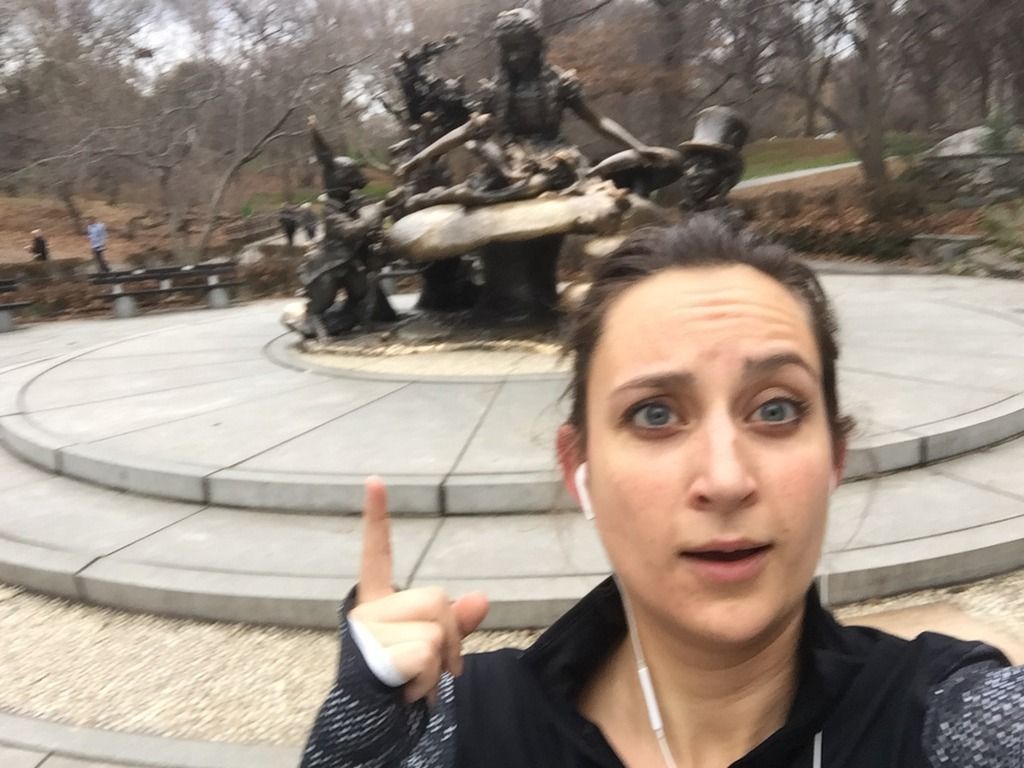 Yoooo.
While I was in New York, I made the decision to work out every day (except arrival and departure day) while strolling through the city and eating everything from duck bacon to the best vegan food ever that I stil haven't gotten over.
Why? Because I felt like it.
Oh, and I had a friend to work out with and a Fitspo Goddess to Stalk.
A week in New York, a week of work-outs.
MONDAY, DECEMBER 21st – YOGA CLASS. 
Apparently there is nothing I will not put up with for my yoga practice.
I already deal with plenty.
So much sweat. Insane laundry loads. The messed up, narcissistic guru who faces rape charges (and whose legal team has managed to delay the trial until May 2016).
I hate to say it, but my home studio is not what it used to be either: The holes in the floor are covered with yoga mats and duct tape, the carpet (which is gross anyway) is starting to fray and something's off with the temperatures in the showers.
So there is ALL of that. But being able to practice yoga, is worth it.
Entering the Brooklyn Yoga Heights studio, I learn that there is even more I am willing to suffer through.
Because the Brooklyn Heights Studio is located above two deli's.
I thought Bikram Yoga couldn't possibly be any grosser, but I stand corrected when the wave of fried food and garlic washes over me — not only in the entry hall but also in the hot room.
But, even though it's hot and the room smells like take out food, I slip into my beloved Bikram yoga sequence as always, sweating like crazy before I even finish the first posture and focusing on nothing but myself and the postures for 90 minutes.
The hot room is smaller than the one in my Rotterdam studio, which means that the heat and humidity stay high(er) and this makes the class both harder and more beneficial.
Marc, the teacher, has a pleasant voice and occasionally says something extra that gets me more into my practice. When I bend my head back I hear him say "our heads weigh about 15 points, so it's good to give your neck a break, let it go completely", which makes my backbend better. He tells me about determination and before I know it I'm in a pretty good Standing Head to Knee.
Afterwards I gulp down a giant carton of coconut water and get a veggie mozzarella sandwich.
DAY TWO, DECEMBER 22ND – YOGA CLASS 
Update: Still smells like food up here.
The class itself is nice, but I do find another thing I have difficulty with: We do some of the postures off our mat, traditional Bikram-style.
I'm not used to this, in my studio we do these postures on the mat to prevent sliding and to not excessively sweat ALL OVER EVERYTHING.
But not doing it on your mat and towel means no grip at all. My legs slide further and further away from each other while I'm in these postures (such as Triangle), and I get rug burn on my fingers when I hold my feet from underneath. Ugh.
However, I'm all relaxed afterwards. Another coconut water and Garden of Eden sandwich after class,  and I'm good to go all day.
WEDNESDAY, DECEMBER 23rd – ROBIN ARZON SPINNING CLASS 
I go to Peloton Cycle for a spinning class by the one and only Robin Arzon.
And damn, Peloton Cycle is a nice studio. You don't have to rent anything like shoes or towels, it's all included. There is a coffee place INSIDE the studio, there's water with mint and lime, there's free raw food snacks. In the dressing rooms there's free towels and Malin+Goethe beauty products.
While I'm waiting for Anna-Belle, Robin Arzon walks by. I may have gasped.
Spinning class is 45 minutes and Robin is a brilliant instructor. Funny, motivational and so intense you don't even THINK about half-assing it because she WILL HAVE YOU. Only 5 minutes in the sweat is dripping down my bike. I'm destroyed after 45 minutes.
Afterwards, I ask her to wish my best friend luck on her fourth marathon (in Paris this time!) and she does it Robin-style. We also take this picture. Let's have a moment of silence for the fact that 32000 people have seen me be a giant dork next to two fit, beautiful women.
THURSDAY DECEMBER 24TH – BIKRAM YOGA CLASS
Anna-Belle comes to Bikram Yoga with me. Anna-Belle comes from more of a Strala Yoga and inversions background, while I am all about the Bikram and back bending, so this little yoga exchange should be interesting.
Anna-Belle likes it more than she thought she would, but I have a tough class and I hate everything. Yes, that happens sometimes while doing yoga. You're so uncomfortable that you just hate everything during (part of) class.
I hate the carpet, which is the cheapest, roughest flat material ever giving me rug burn on my sweaty hands and feet. I hate my position in the room, because from the smell I can only assume I'm directly below the kitchen from the deli below and today is omelette day. Fantastic. I hate the smell.
But, I sweat and bend all the hate right out of me. I'm relaxed and happy when we sit down for brunch and Bloody Mary's after.
FRIDAY DECEMBER 25TH – BIKRAM YOGA CLASS 
No more hate today.
Instead, the heat is so intense today I completely lose my ability to think. I just listen to Marc's voice, do the postures and before I know it class is finished. I feel very tired, but content.
The idea a Bikram class always gives you energy (straight away) is a myth. Sometimes it makes you dead tired.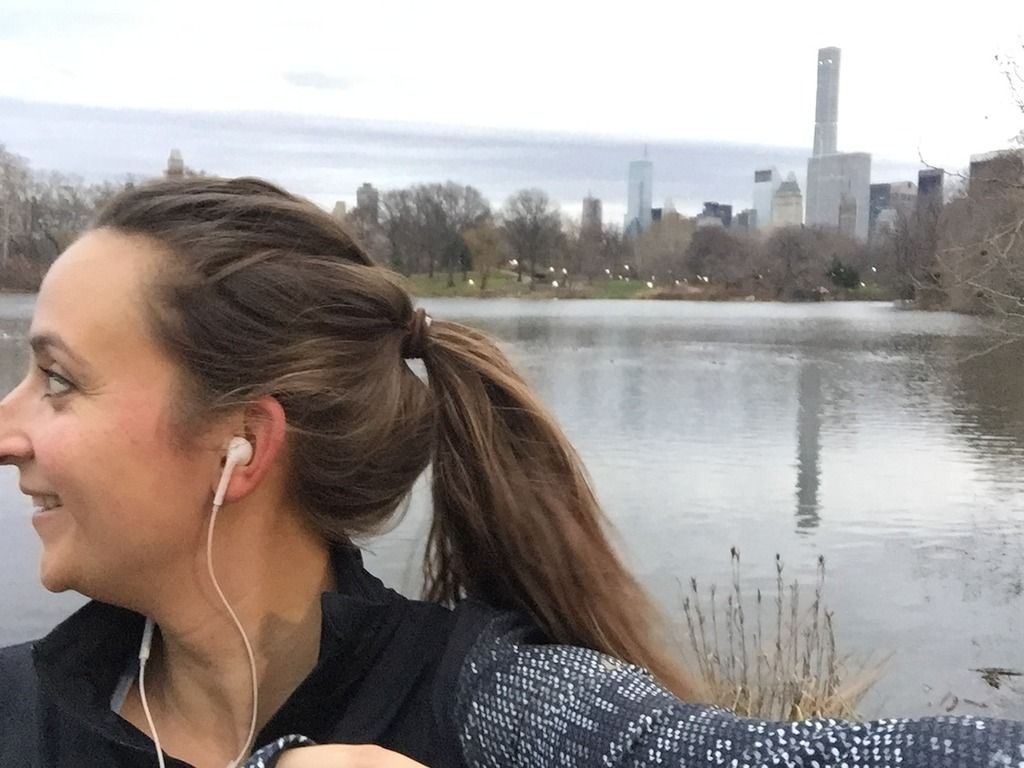 SATURDAY DECEMBER 26TH – THE CENTRAL PARK RUN 
I had wanted to run more in New York, but I think I may have overdone it back home. After a 18K run and 13K run the week before I left for New York my calve and hip have been hurting, which was not great on an 8-hour flight, let me tell you.
So I just check off my non-negotiable: Running in Central Park.
I Snapchatted the entire thing because everyone knows a work-out doesn't count unless you put it on social media, oh AND because running in Central Park is cool and I wanted to take you guys along.
Somehow I still run my fastest 1K and my fastest mile ever. Must be the excitement.
I also ask a woman to take this video of me. She did not watch Friends. It was awkward.
After 8,5K I get a coffee (Annemerel style: coffee after running) and go back to Brooklyn.
SUNDAY DECEMBER 27TH – RHYTHM SPINNING CLASS 
I had another free spinning class on my card at Peloton Cycle I now go to Christine's Rhythm Spinning Class at 08:30.
The rhythm class is described as a work out where you ride to the beat and let the inspiring soundtrack clear your mind. They're not wrong.
I loved it. I am totally feeling Christine's vibe. It is radically different from Robin's, and maybe a little more 'me'. The music is great, Christine's laid-back but keeps you going and her mantra "I am, I can, I will, I do" totally resonates with me and I feel like I'm doing a 45-minute cycling meditation. Christine has a yoga teacher's energy about her and I like that.
MONDAY DECEMBER 28th – 
Does running around in the Sephora buying EVERYTHING count? I think yes. Full body workout including me working out my creditcard-muscle.
---
For me, being active every day made me enjoy my time in New York even more.
It helped me get rid of the jetlag, feel grounded, focus and to sleep better. Plus, it's a nice way to hang out with new friends and meet other people to chat with for a while.
The great thing about working out in a different country or city is that these work-outs too, are new experiences that add to your time there.
Not only does the exercise make you happy, and relaxed while on vacation, which is exactly when you SHOULD BE happy and relaxed, they are part of the fun and the adventure.
(That you can eat more is also a bonus.)