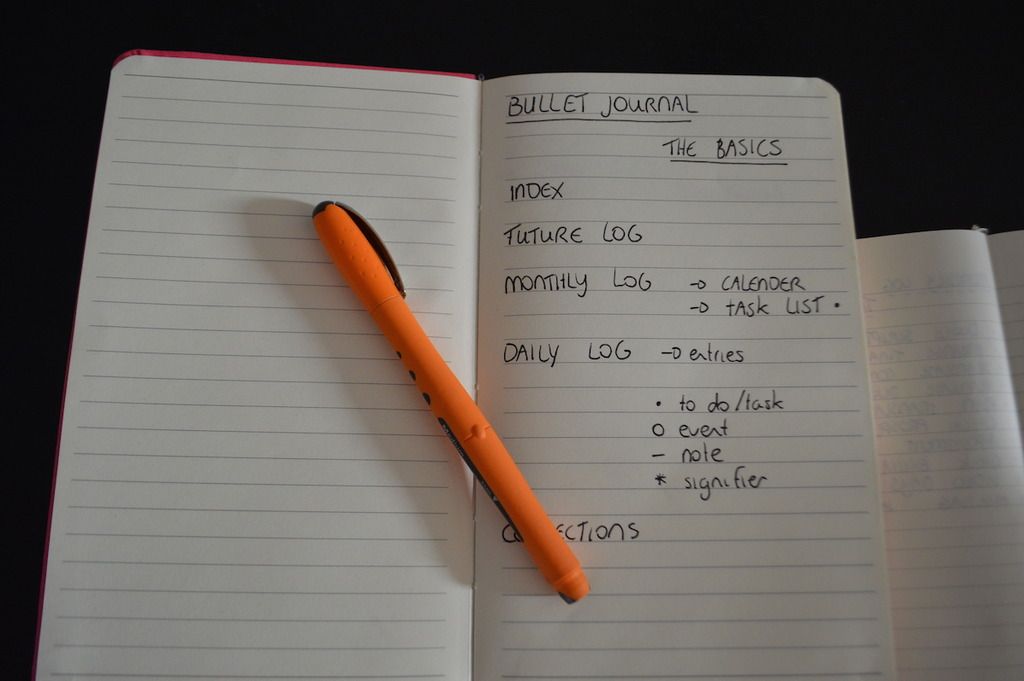 I don't do much requests. Unless I'm drunk and you have 'My Heart Will Go On' on your karaoke machine.
But after the many times people ask me about bullet-journaling AND my original article being bugged and filtered by my security system, I figured I'd do a quick walkthrough of the Bullet Journal Basics.
After all, I have accepted the Bullet Journal in my heart as my Planning Lord and Organisational Savior, so I might as well preach the good word.
HISTORY Ryder Carroll, a very successful creative, came up with the bullet journal method because he wanted an 'analog system for the digital age' : Somewhere to keep it all, but on paper. Clean and orderly, but written down.
It's been around for a while (the original YouTube tutorial is from 2013), and people have continued to use it and tweak the system to their own personal liking: As Rydell says himself, the system keeps evolving. Which is fun!
You can take the bullet journal basics, and make a personalised, even more effective bullet journal method for yourself.
MY BULLET JOURNAL HISTORY I've been using it since early 2015, so a little more than a year.
I have not stopped using it since. For me, someone who is easily scatter-brained, who has to keep so many different balls in the air at work and in my personal life (and often fails to because I just can't remember it all), but who cannot work with iCalenders or Wunderlists or Google Calendars, this is exactly what I need.
I think on paper. I've said it many times over: If I don't put it on paper, it does not exist.
I need to write it down, physically write it down. Yes, this takes more time and effort than typing. Yes, using coloured markers is childish for a 27-year old. Yes, my hand is covered in ink because I'm a leftie.
But I need to do it, because it helps me (attempt to) keep my shit together.
From the get-go I used colours and different styles, with little drawings because that's kind of what my brain needs.
Point is, it's been amazingly helpful. I use some elements of the bullet journal basics as well some put in some things of my own (will show you later), but I think if you have trouble keeping it all together and 'understanding' your life, your schedule, your to-do lists, whatever is happening around you: The Bullet Journal can be so incredibly helpful.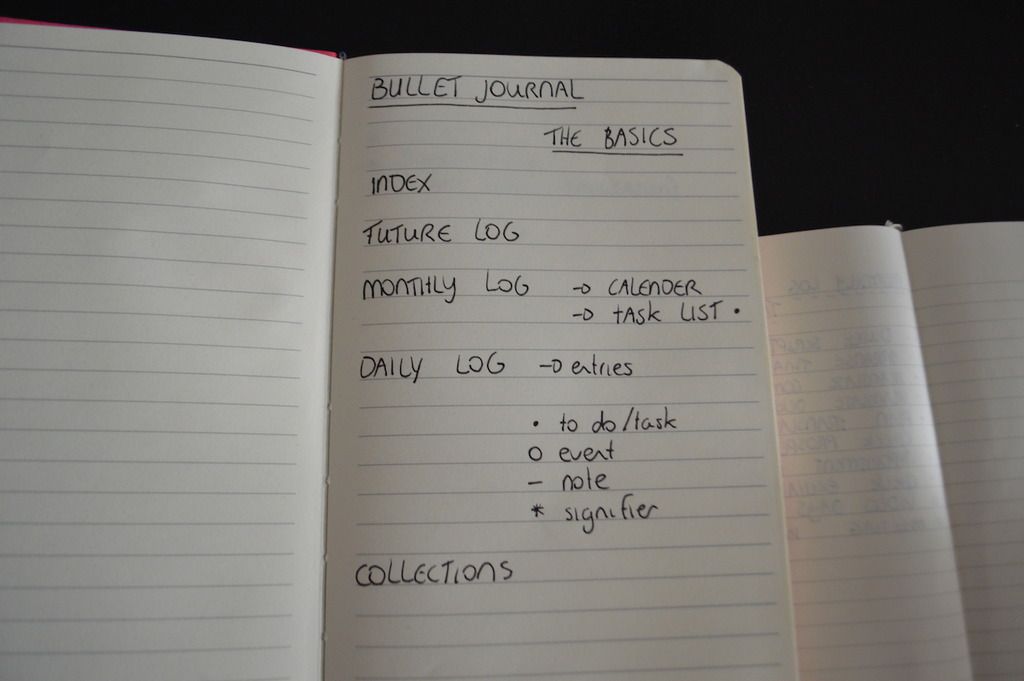 BULLET JOURNAL BASICS: THE ELEMENTS 
INDEX: First page, you make your index. Then you number the pages and you can actually create an index that helps you flip through your bullet journal and find what you need faster.
Using your Index can save you a ton of time if you're looking for 'People I Want To Murder in 2016' and unrelated 'Prime Locations To Hide Bodies'.
FUTURE LOG: You can divide the two-pages into 2 x 3 parts for the months, in which you can write down important things of that month.
As you can see, I roughly outlined some important dates, and elements of my job in my future log.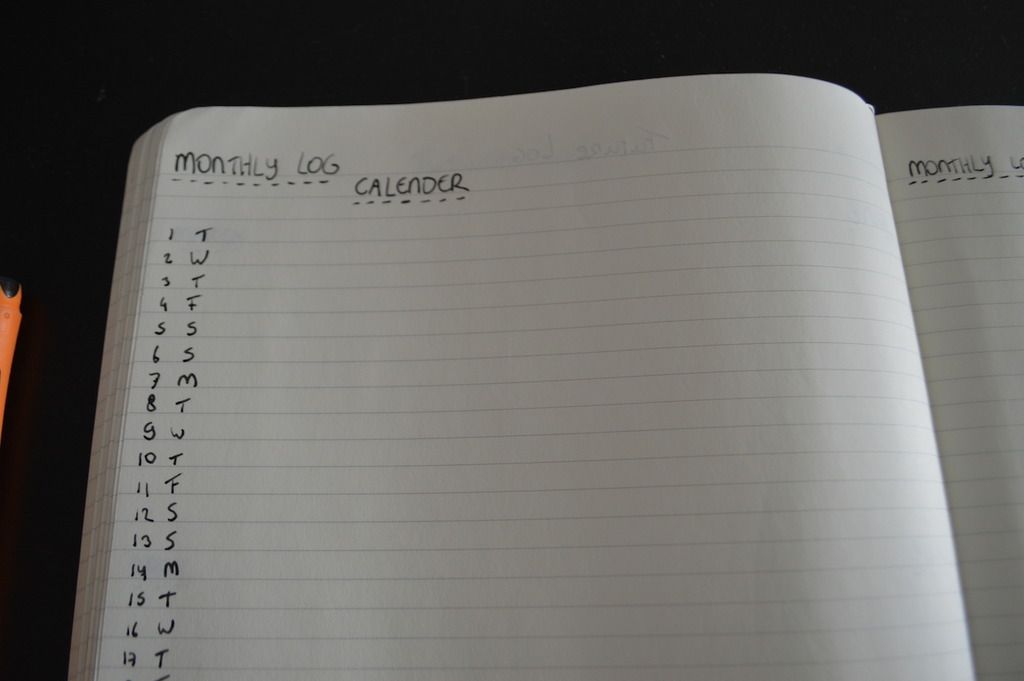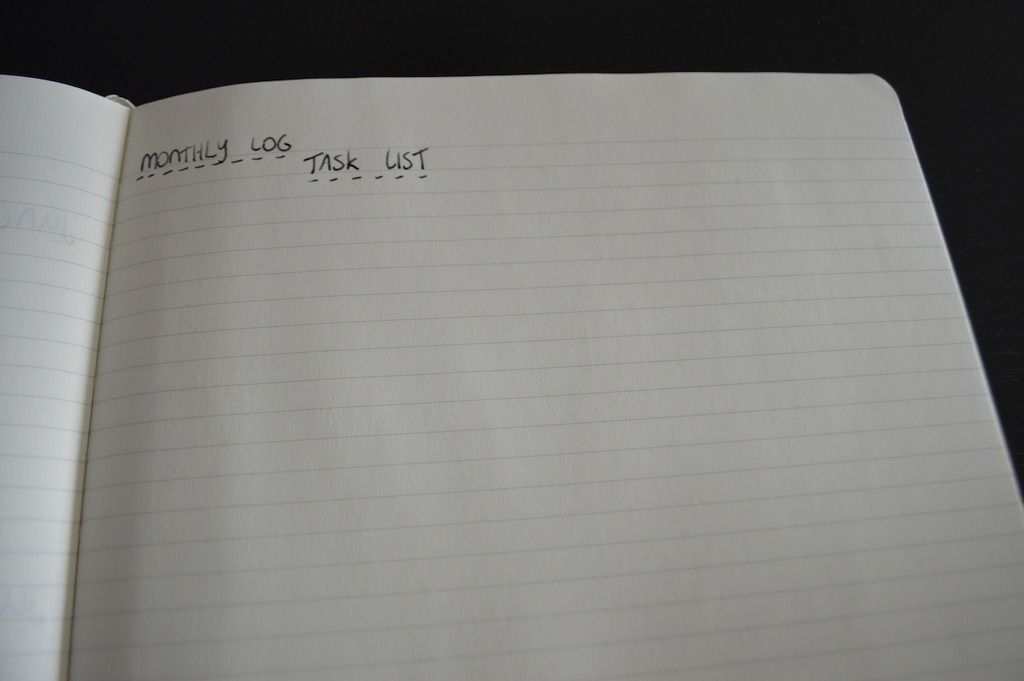 MONTHLY LOG: 
CALENDAR: You write down the dates, and then the letters of the days. On the rest of the line you can write what you need to do that day/what's important.
TASK LIST: On the right you write your task list for the month.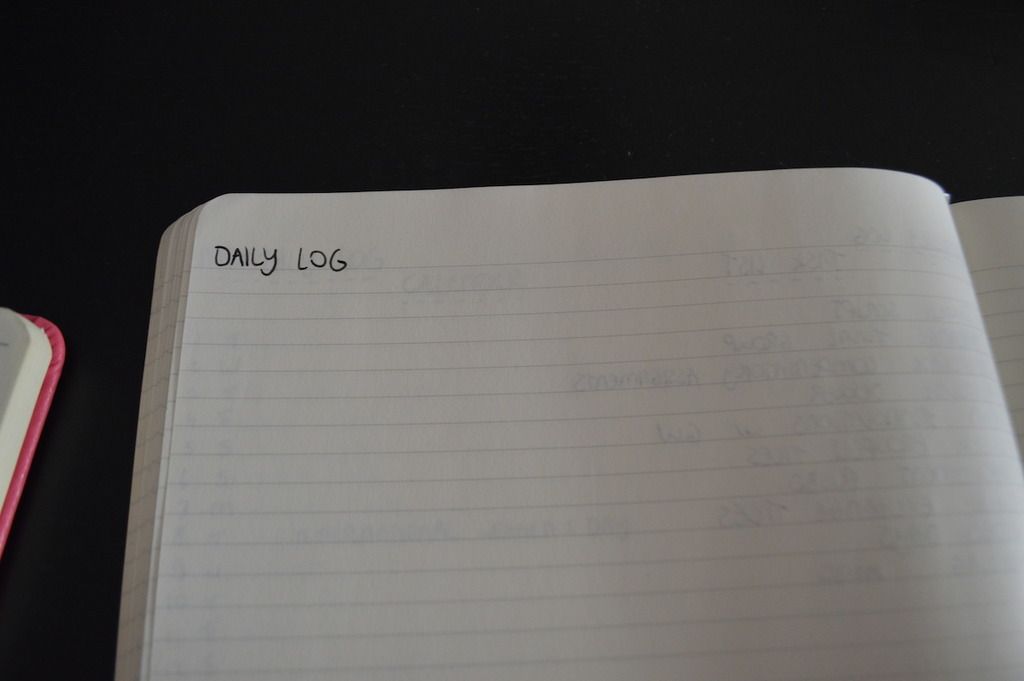 DAILY LOGS: This is where you write down what you focus on that day, your to-do's, things you should remember, anything of the sort.

BULLET JOURNAL BASICS: THE SYMBOLS
As you can see in the picture above, there's four elements.
Black dot is a to-do.
Open dot is an event.
A dash is a note.
An asterisk is a signifier, something very important.
BULLET JOURNAL BASICS: THE METHOD 
When you review your bullet journal, you can eliminate or migrate items from your Monthly Log or Daily Entries into the next month or new daily entries.
If you've finished a to-do, you put an X through it.
If you no longer need to remember it or need to do it, you can strike it out.
And if you need to migrate it, you can take things to your next month, with the >-sign.
The advantage of these simple, clean principles is that in one glance you can make sense of a lot of things.
BULLET JOURNAL BASICS: COLLECTIONS
There's also the possibility of creating collections, where you take a topic and put all the relevant notes and dates and to-do list items into one place.
Examples would be a project, blog posts to write, books to read, exercise, goals, food logs, etc.
My favourite example of a Collection is 'Waiting On'. This is a collection where whenever you wait for an order, an email back, a response, anything, you put it here so you won't forget. Brilliant.
---
Anyway, there's a world of inspiration and information on the bullet journal out there, and this is just the very bare framework upon which the Bullet Journal system is based, nothing more.
I recommend it mostly to the easily distracted, the disorganised and the busy, who cannot get technology to lift them from these curses. If you're one of those, you might fare well with the bullet journal.
I'll show you mine later this week. Mine is less simple than these bullet journal basics. I'm a child at heart and I FUCKING LOVE COLORING.
Have a great Monday. Be the person the Self Help Hipster wants you to be*.
*Not a dick and doing you.