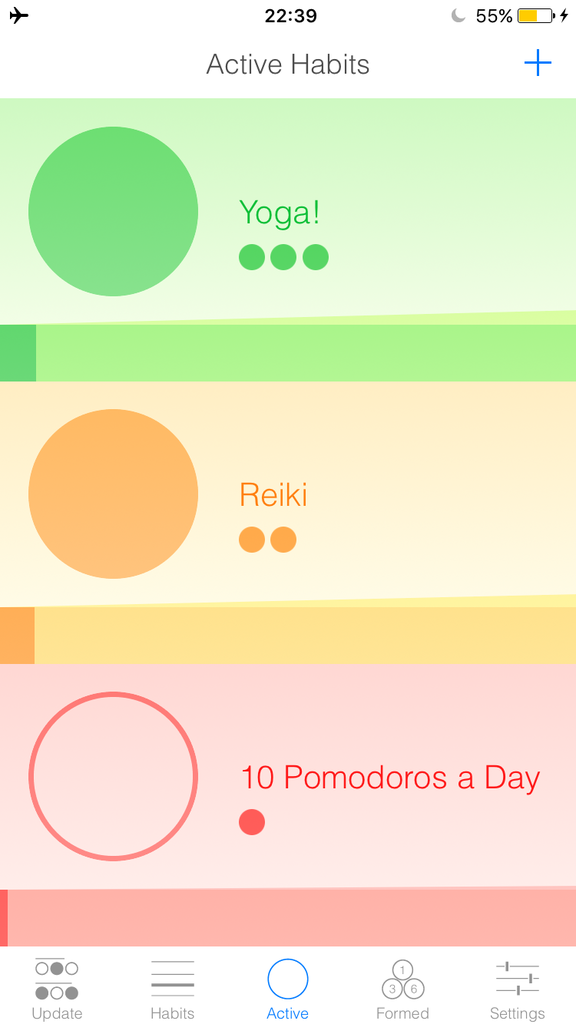 Although I will never forsake my Bullet Journal (I'm a pen-on-paper girl when it comes down to it), occasionally I let Self Help Apps into my phone and into my heart.
The app developer got in touch with me about the Better Habits iPhone app he developed: A habit tracker he build based on some basics and psychological research.
It was love at first screen shot.
I downloaded the Better Habits iPhone app immediately, been using it and loving it. I think you might love it too.
Take a look.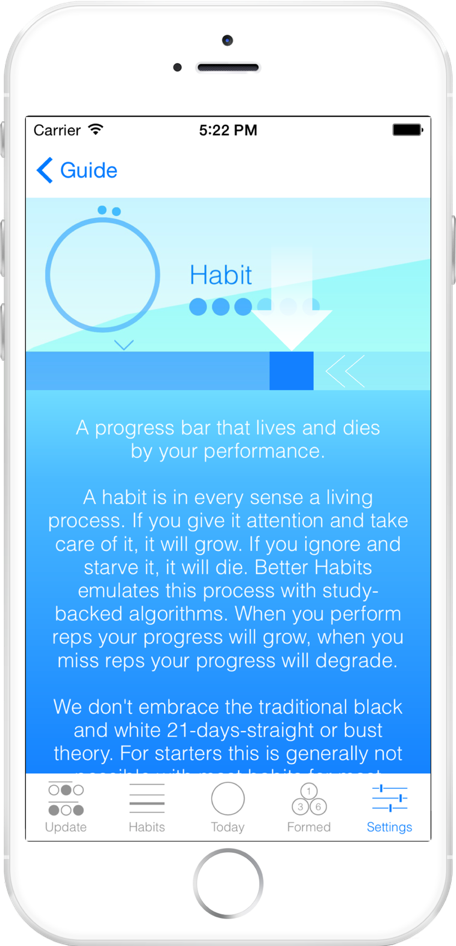 BETTER HABITS is a intuitive, nice habit tracker that incorporates a few different elements of creating habit, habit changes. You fill in the habits you want to form, and start tracking them.
So far, so the same as most other habit trackers, right? Just a bit better looking than most, although Balance isn't terrible either.
What's different is that it includes different features and options, all backed with psychological research. (References included in the app and website.)
THREE IS THE CHARM You can only have 3 active habits at the same time, the rest of 'em are queued.
This is because you can't change all your habits at once, and this helps you keep focus on the most important habits at hand. Once a habit is strong enough, it will go in Formed Habits. New habits will go out of the Queu in the Active Habits field.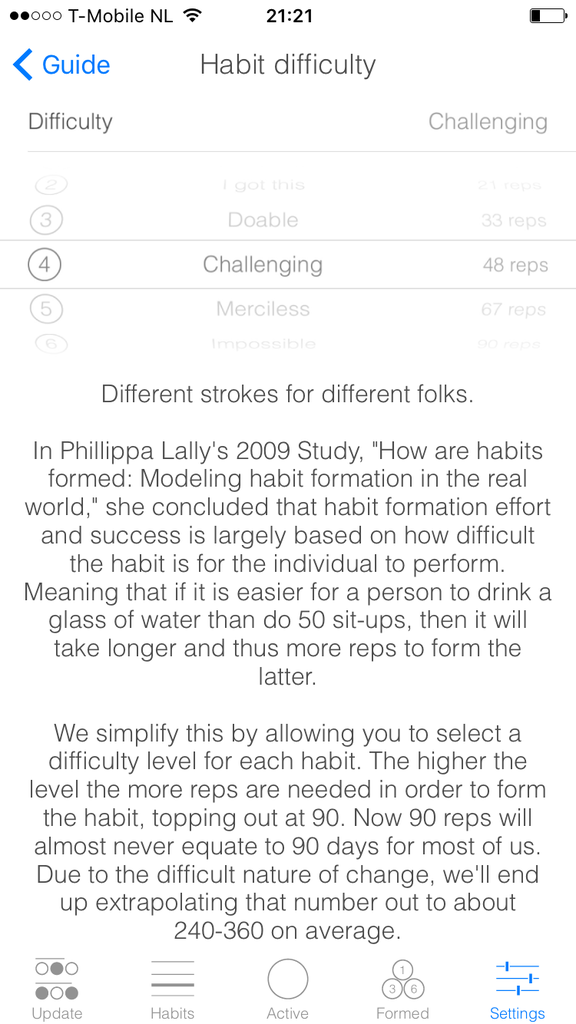 DIFFICULTY SETTING How long it takes you to install a new routine or habit is not necessarily the often quoted 21 days, it depends on the difficulty.
So, Habit Tracker includes different difficulties, from Piece of Cake (you need to do only 14 reps to probably be able to make it your routine according to Better Habits) to Impossible (needing approximately 90 reps to complete before you can count it as a fully Formed Habit)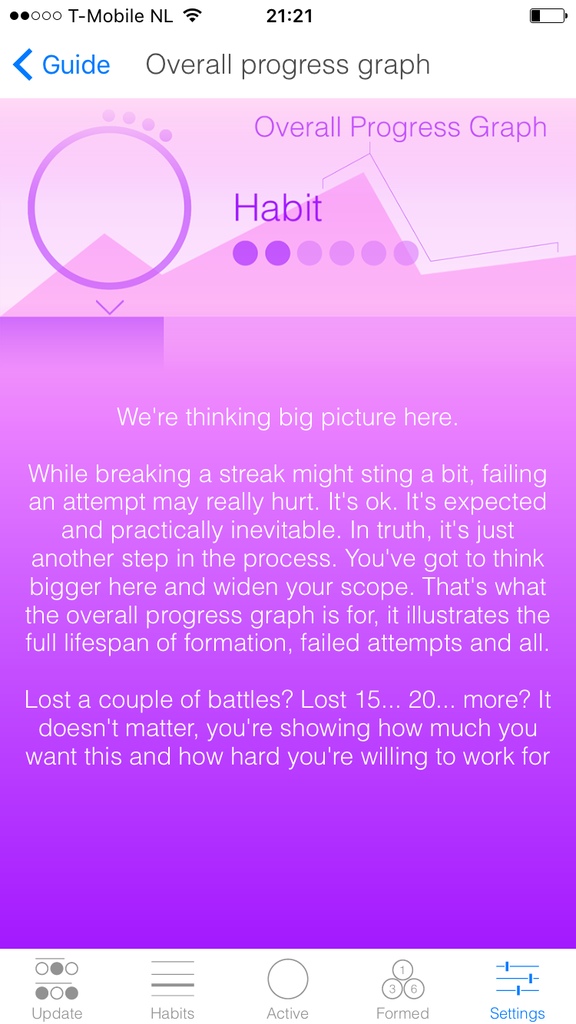 NO STREAK NECESSARY You don't have to do it all day every day, you can decide to do something a few days a week and it will still be counted as a new habit to form. I like the practicality of that, because some things you don't have to do every day but still want to make a habit.
(The commercial is a little too 'Become The Best You!!' at the end, but it shows off the app quite nicely, if you want to see it click here.)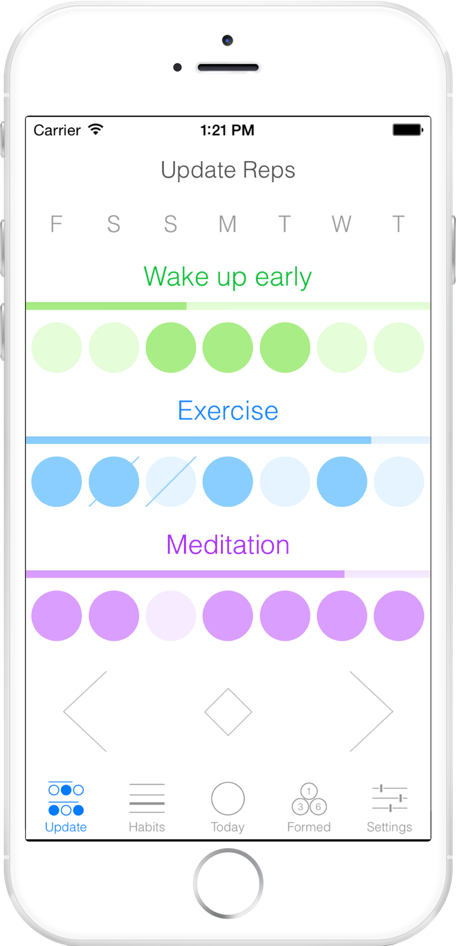 The Better Habits iphone app is just the right amount of everything for me, which is why I liked it straight away.
Aesthetically pleasing but simplistic, room for several habits but not too much, being able to do streaks but also to just create habits without having to do something every day.
It's 2,99 in the App Store, and if you want to try a good habit tracker, I think this might be a nice and easy one.
Hope you like it as much as I do!