Thank God for last weekend, because Lord knows I needed a break.
I took a plane to Rome to spend my birthday weekend with Vincent.
You know how I roll: Bullet point report below.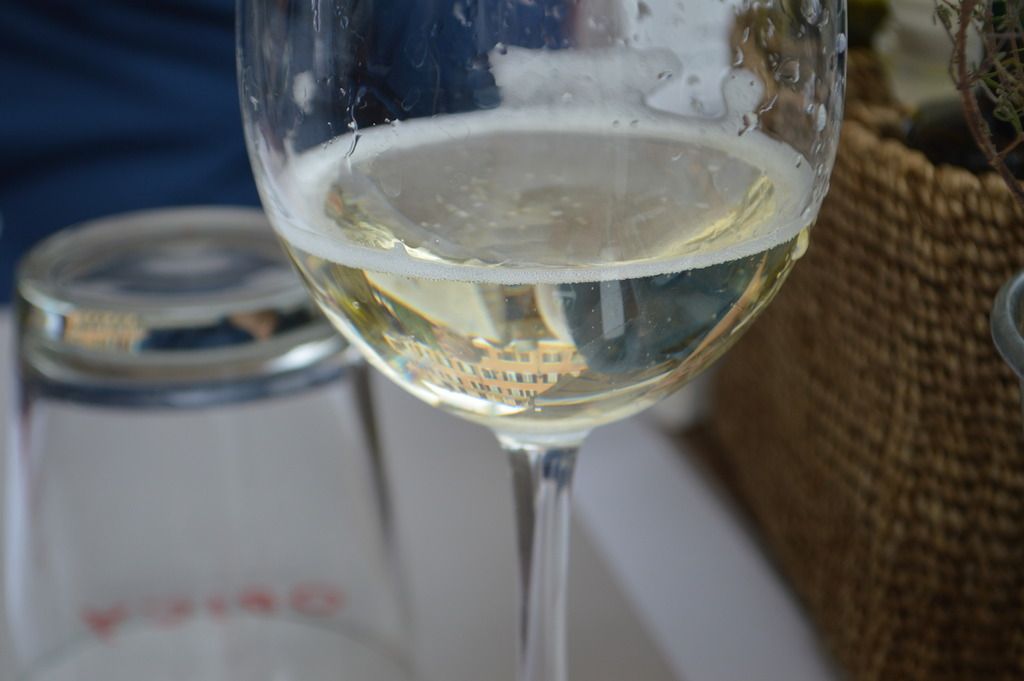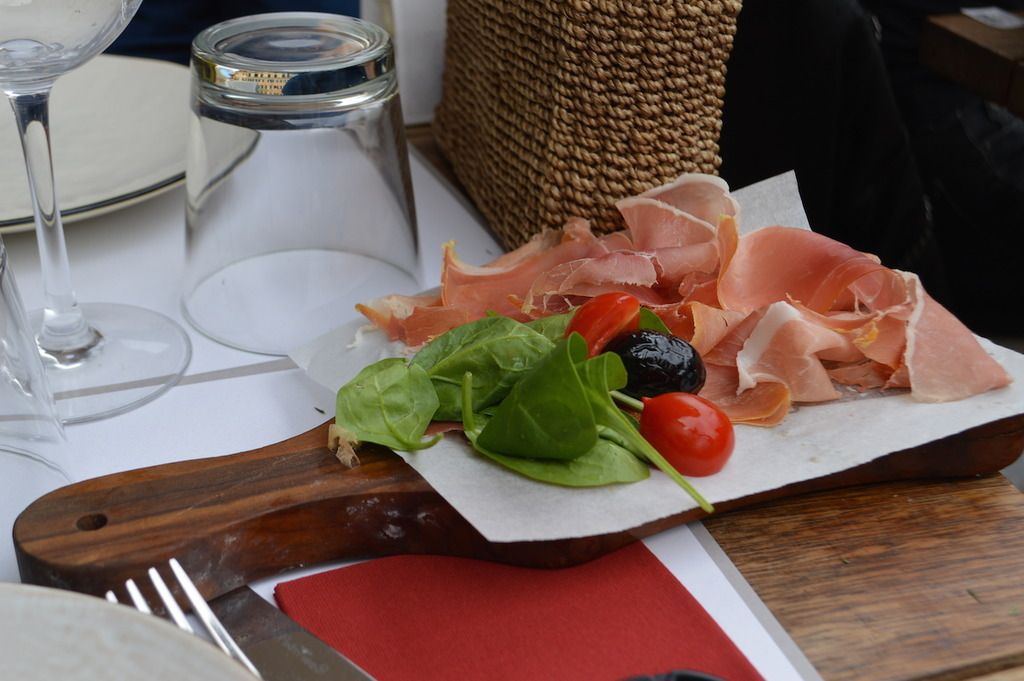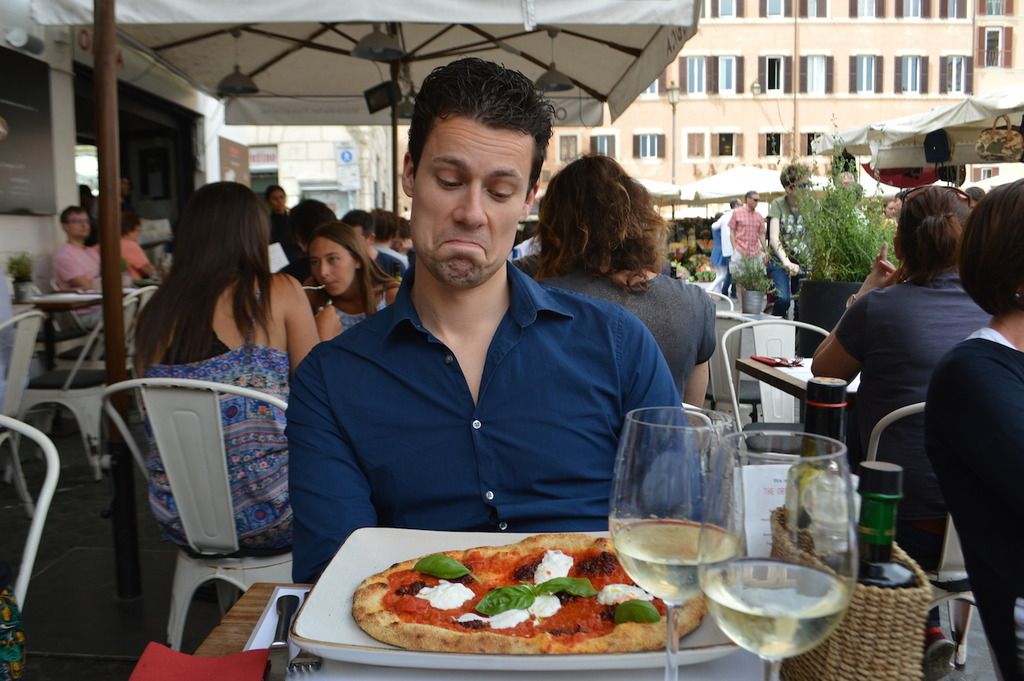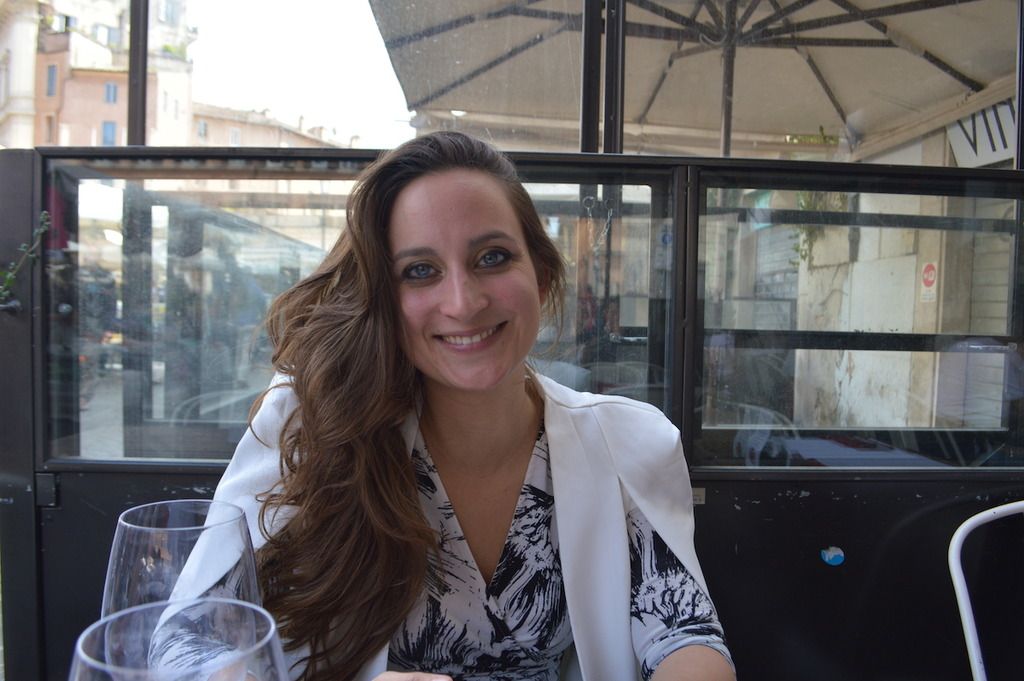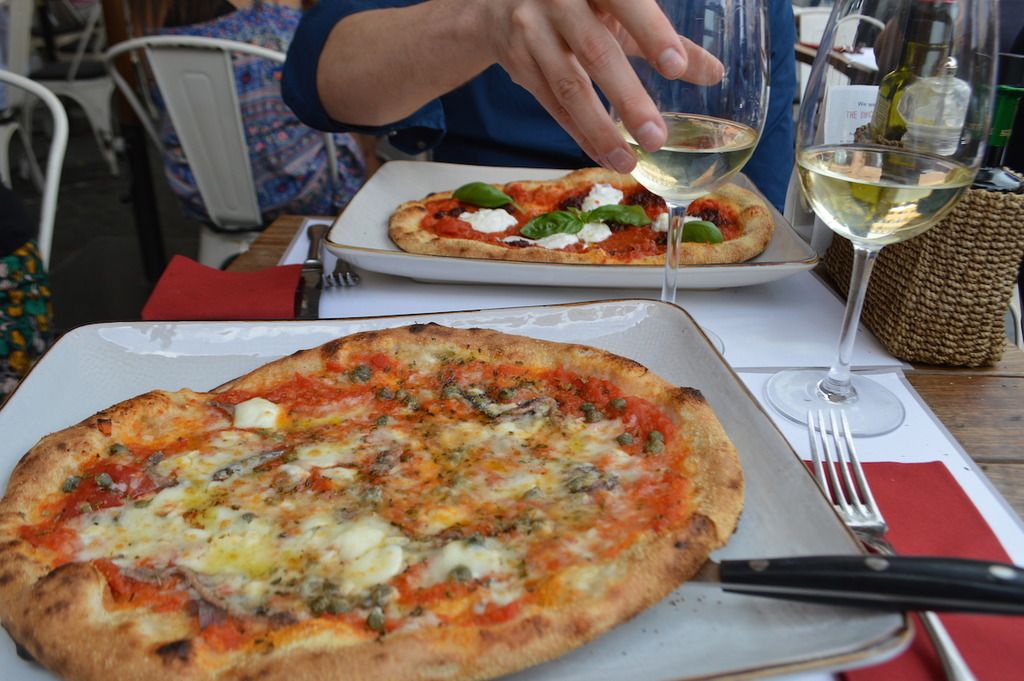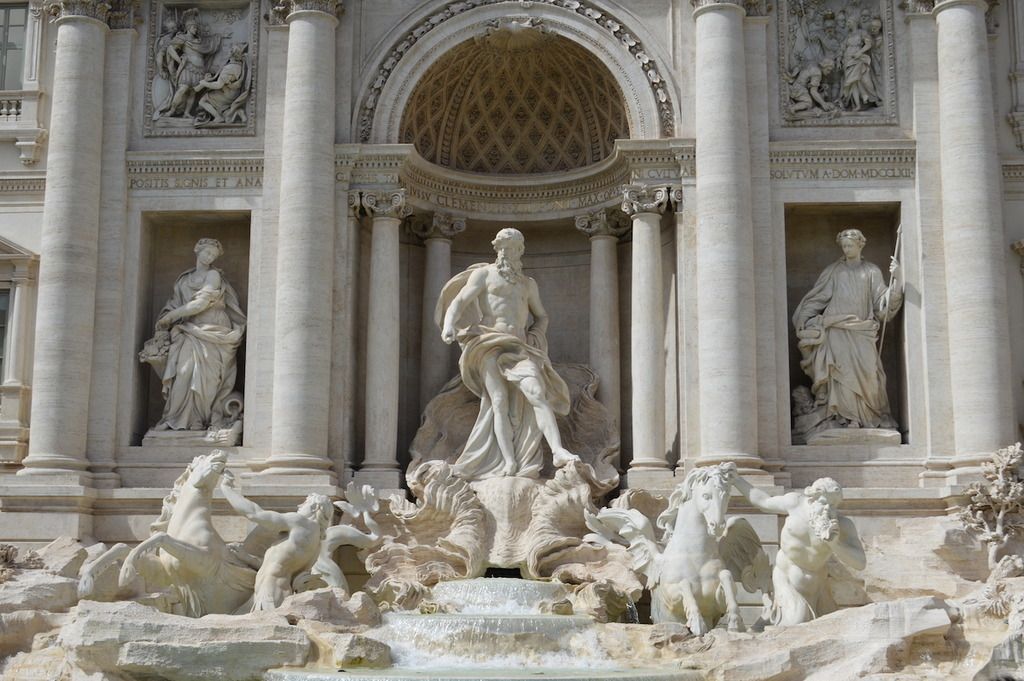 DAY ONE
STORY TIME
I lost my passport on the EasyJet flight.
I am fully aware that this is MY fault. I lost it. Things YOU do generally are your own fault. So okay, I lost it, my bad, they should have made me ride the Idiot Bus to Idiot Ville.
BUT. I I will say EasyJet and the Fiumico Airport did NOT make it easy on it me. I went from servicedesk to servicedesk, from terminal to terminal and nobody lifted a finger for me. Then (near tears), I went to the Italian police on the airport, got a phone number to call in case my passport showed up and that was that.
Vincent was sweet and helpful, which was lovely. But then when he tried to put an arm around my shoulder he accidentally punched me in the jaw a little bit (we can both be a tad clumy).
"I deserve wine for lunch, don't I?" I said, rubbing my jaw. "Yes. Yes, you do."
We take the train into Rome, find our apartment (near Campi di Fiore), get changed and go out for lunch.
We go to Obica, and have smoked mozzarella, prosciutto, and great pizzas. And wine.
The weather is gorgeous, and I show my beloved my favorite spots. Piazza Navona, the Trevi Fountain (we have St Crispino ice-cream), the Pantheon, the Fora and the Colloseum.
TOUR GUIDING
I forget to take a lot of pictures because I'm Tour Guiding today.
What is Tour Guiding, you might wonder?
I'M GLAD YOU ASKED. Tour Guiding is when you make a bunch of shit up about historical places and events. A collection of my best work:
[TIBER RIVER] "They actually wanted to name the river Tiger (Julius Ceasar's favorite Chinese horoscope) but something went wrong at the municipality and the've been pretending it's totally not a typo ever since."
The fora like Forum Romanum were the result of the great Redecorating Disaster of '03 where Mussolini lost his shit over some taupe carpet.
I showed him where Mr Ferrari lived. (I didn't show him where Mr Ferrari lived).
There is a statue of Julius Caesar on the Via de Fori Imperiali that he built for the sole purpose of directing people to his palace. Titled: "This way, motherfuckers."
Alternate title: "Where my hoes at"
The statues in the Pantheon are from the period Julius Ceasar dabbled in the music industry with his boyband. They were called 5 Hominem and best known for their debut dance single 'Romanum Est' and the follow up single 'Et Tu, Brute.'
Obviously Et Tu, Brute was a sensitive pop ballad.
DINNER
We go have dinner at a place where the moment we walk up to the table the waitress asks us if we want the gluten-free menu or the normal menu?
Obviously I was super-offended (do I look bloated? do I look like one of those people who is gluten free even though she doesn't need to be?)
But I do think it's pretty cool that these types of options are available. I have a pizza with courgette, gorgonzola and all the poor gluten everyone else refuses to eat because they read a thing online one time.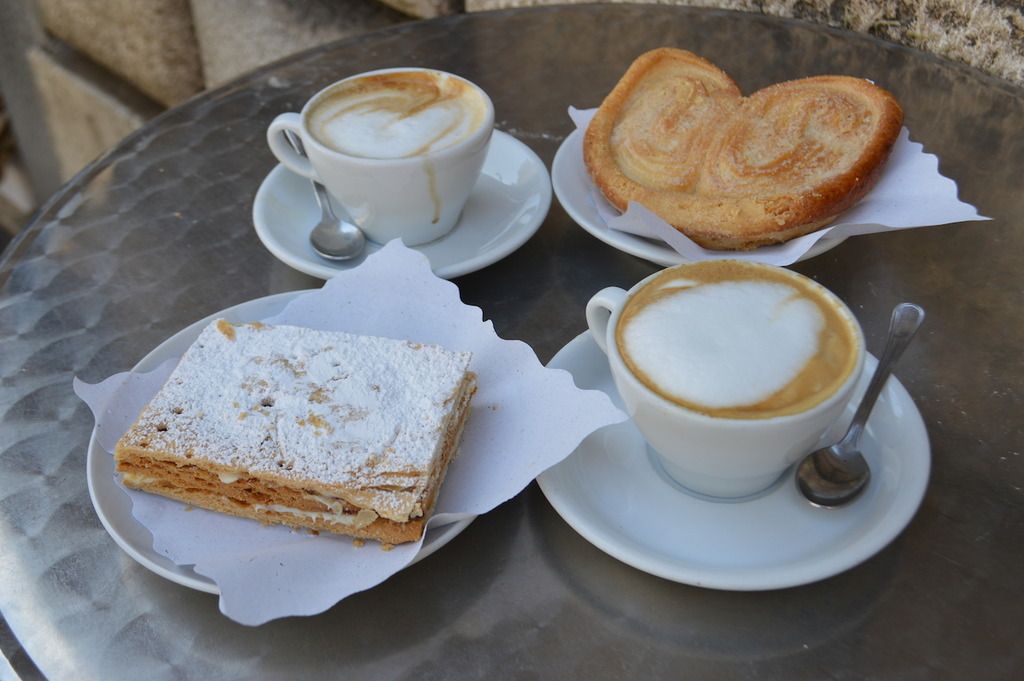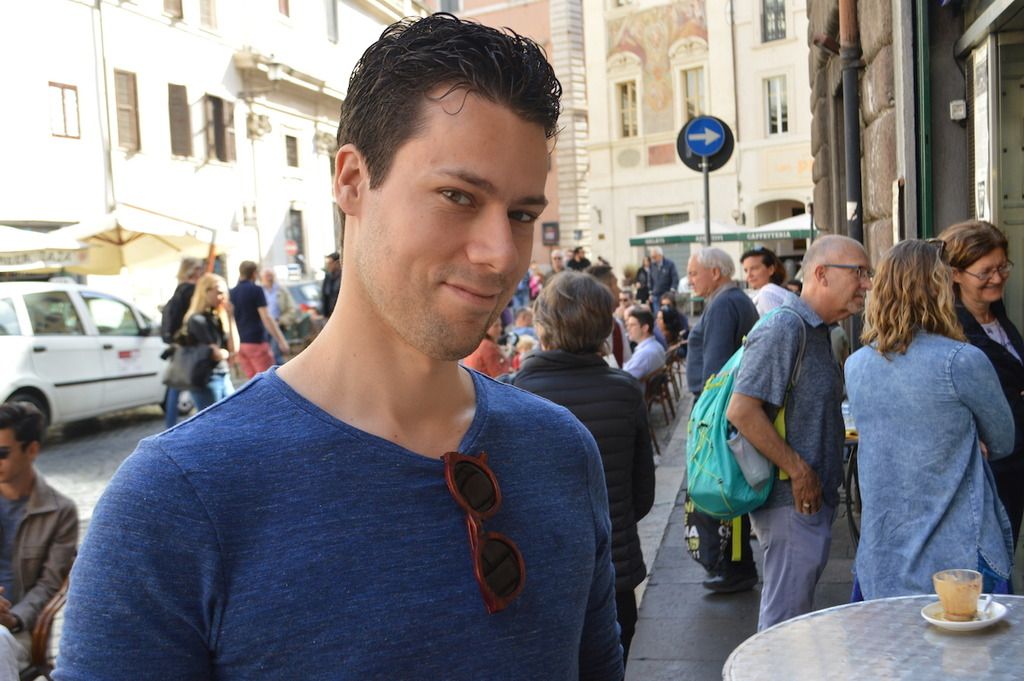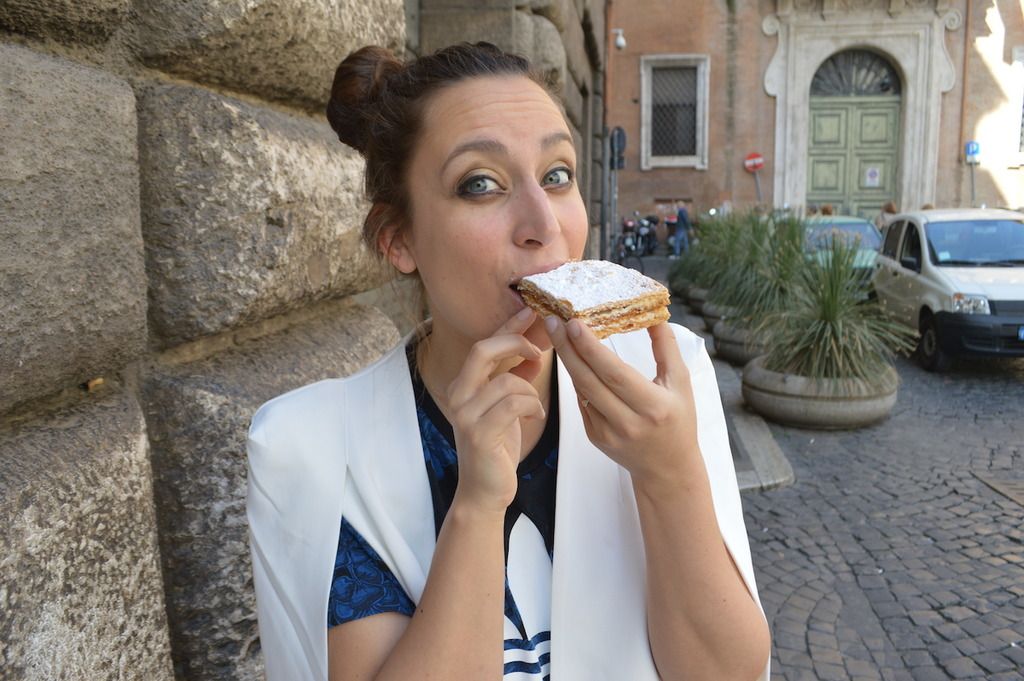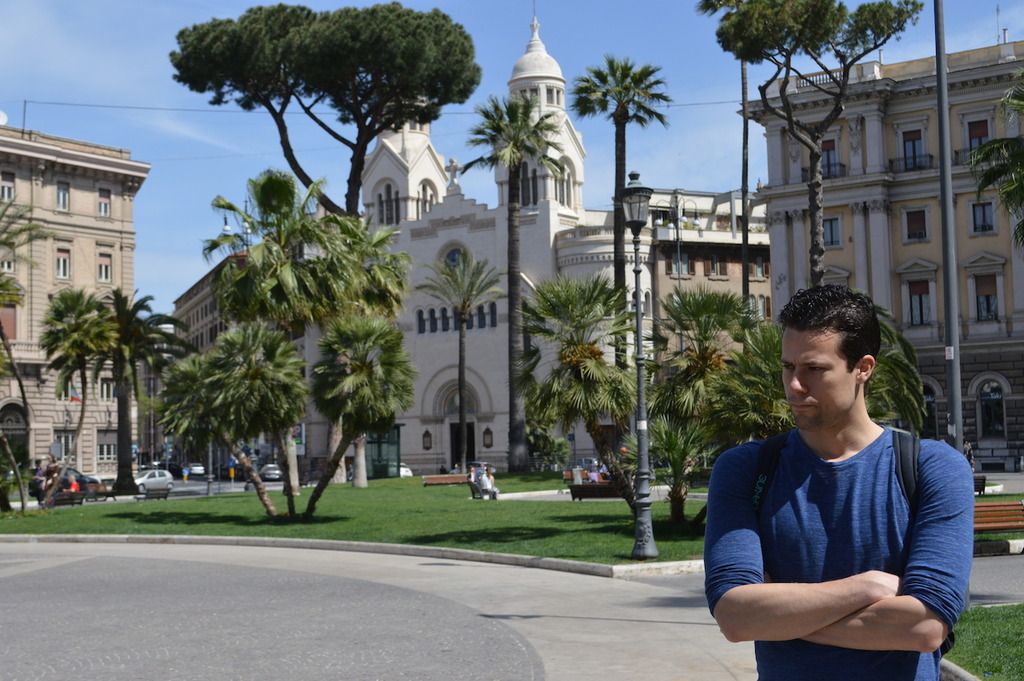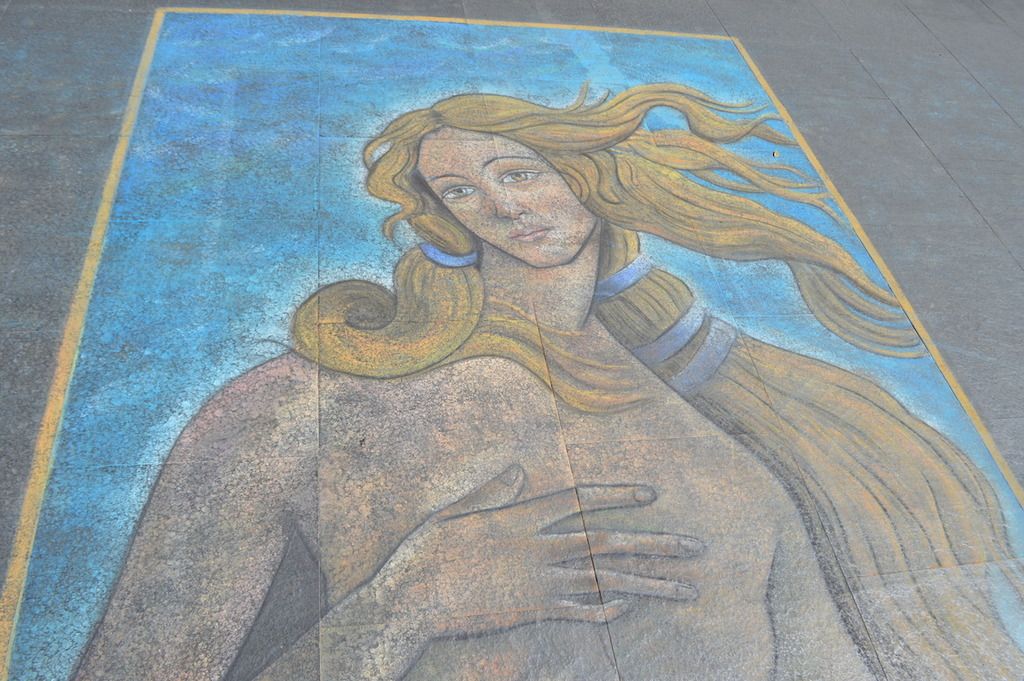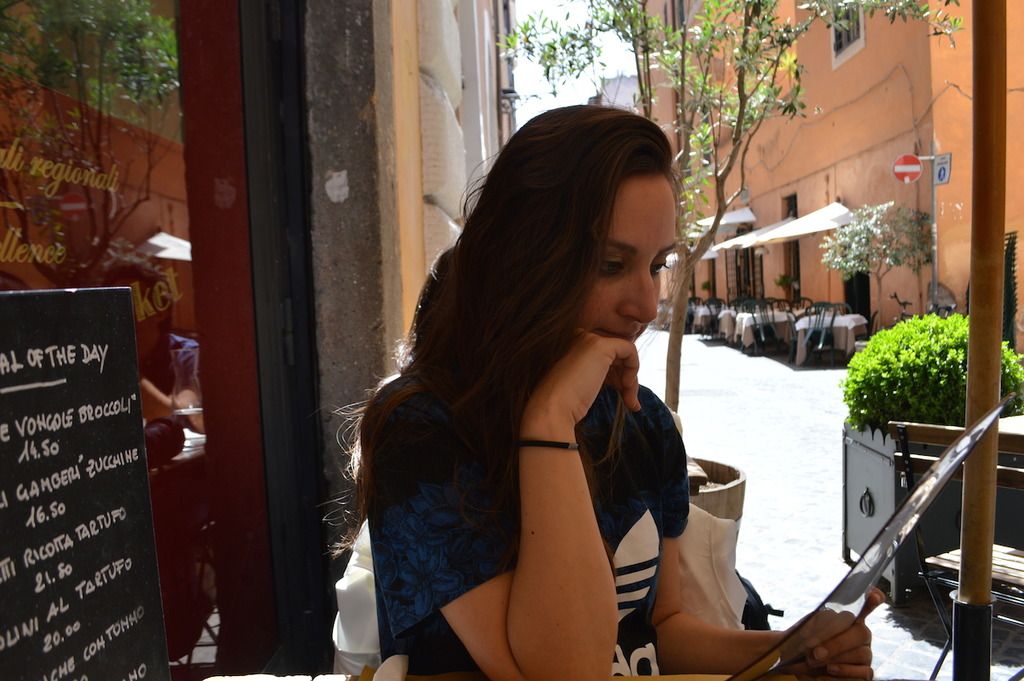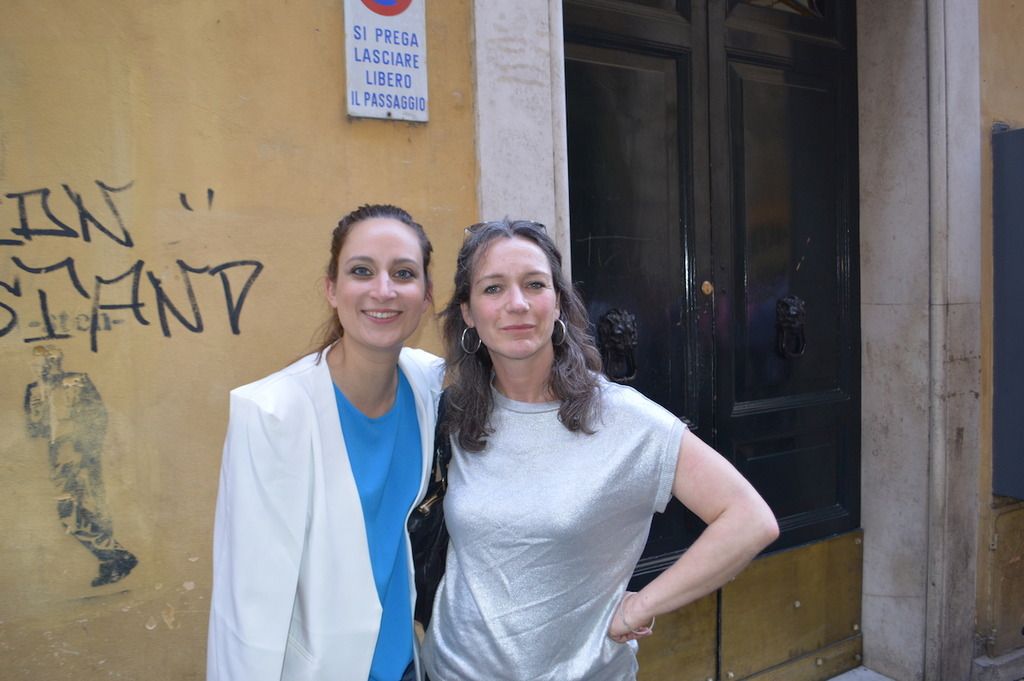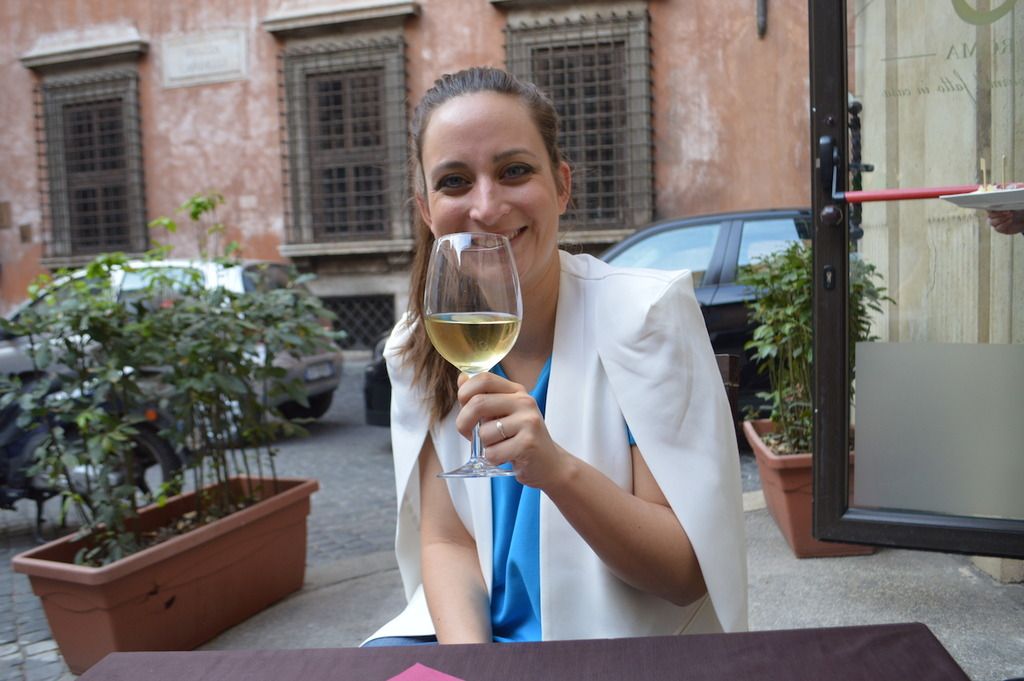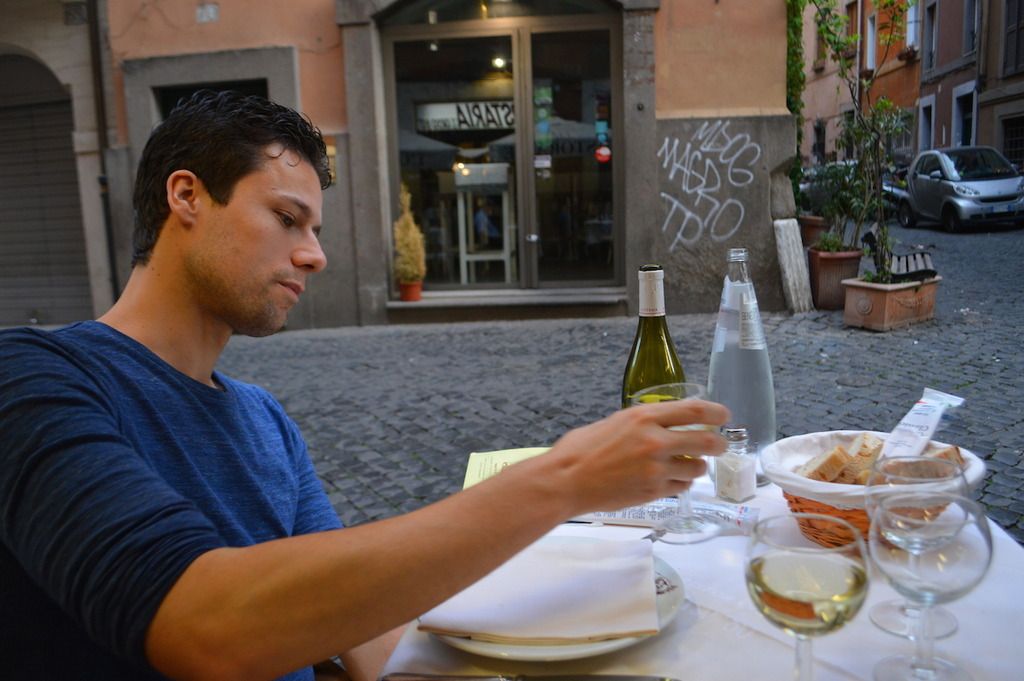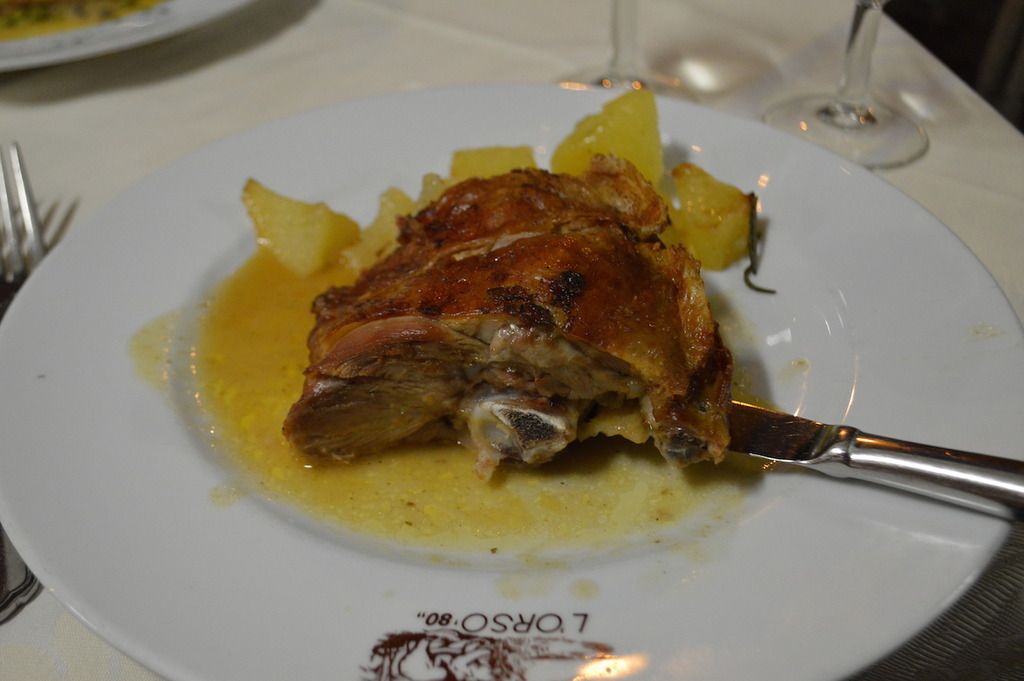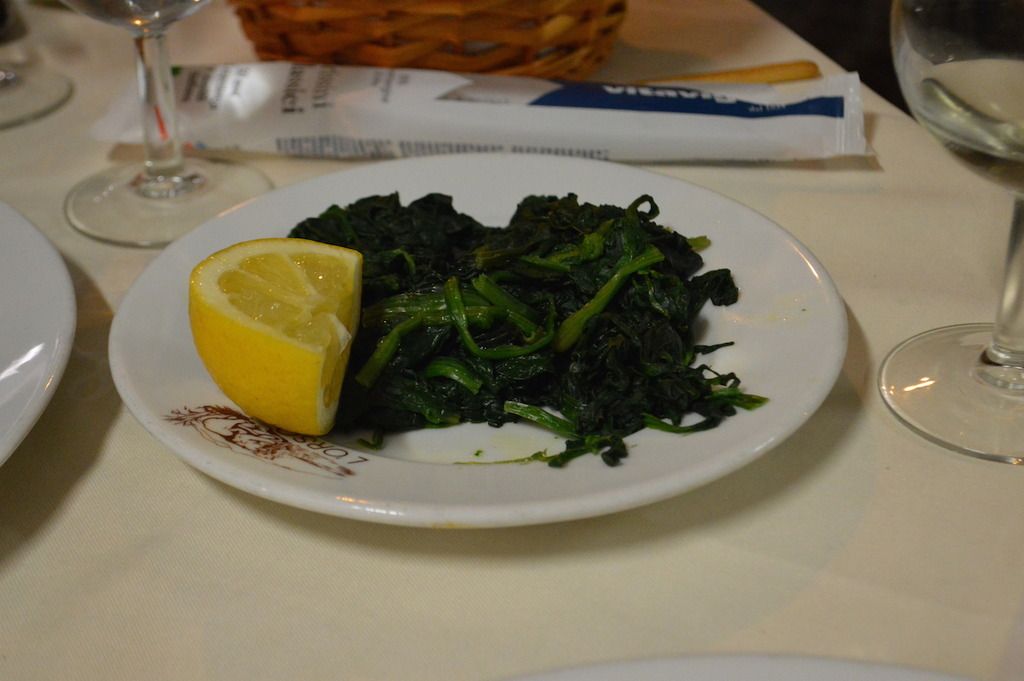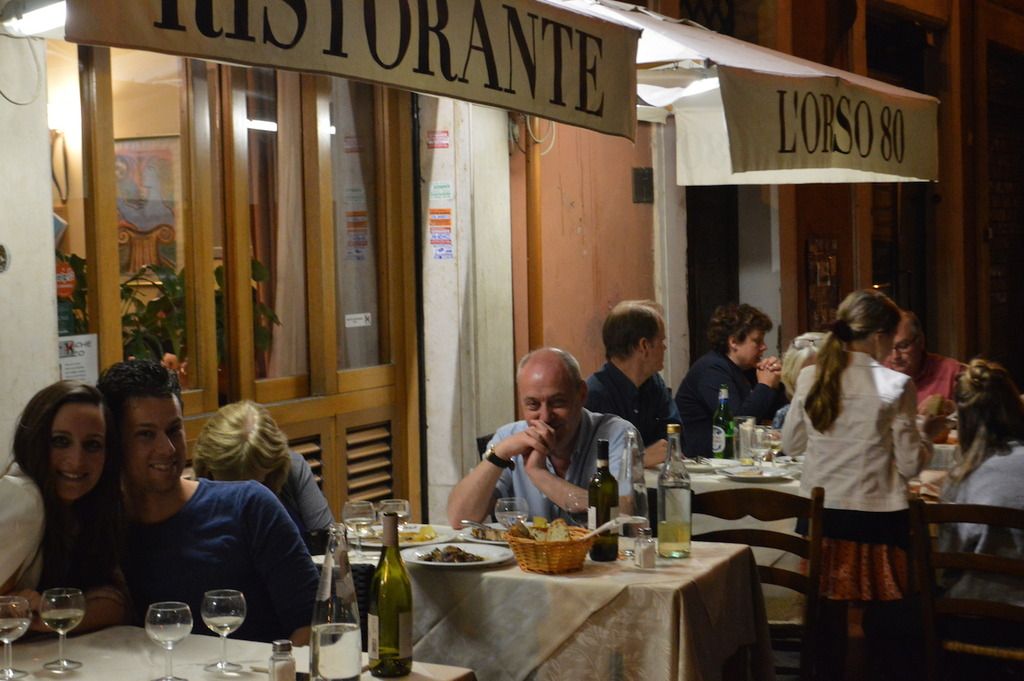 DAY 2: SUNDAY
YAY, we're going to Saint Eustachio's Caffe. I had coffee here on my birthday last year and I wanted to go back and drink more coffee and eat more pastries.
That was an excellent idea because not only is the coffee even more amazing than I remembered, I have something called a Millefoglie (= puff pastry).
It is the best thing I've eaten in 2016.
And I've had good food in 2016. Lots of pasta, I went to FG food labs, and I had champagne cupcakes Friday night. But this millefoglie? Unreal. Mind-bogglingly good.
We walk around the Basilica di Angelo and accidentally end up talking for a good hour on a bench in the park.
I call the Polizia at Fiumicio, but alas. No passport. Time to face the music, I have to file a report and do stuff to get an emergency travel document to get back home on Tuesday.
I'm in and out the police station in literally 10 minutes, the officer I talked to didn't talk much but didn't make me feel like I was THE WORST either and I got my form and my report. Time for lunch!
We have a good glass of wine and a plate of pasta for lunch. When I try to get a bite from Vincent's plate I spatter pasta sauce all over his shirt. #unsuccessfulgirlfriending #unsuccessfuladulting
We go to the Spanish Stairs, have amazing gelato and walk around some more.
We go back to the room for a while, and I text Susannah, who is in Rome on a school trip if she wants to meet for ice-cream. Susannah and I become friends through coaching and our websites, and I love the way she lives her life. Very inspiring.
We meet at the Pantheon, Susannah gets us ice-cream (which mean we have to meet again, in Rome, for ice-cream, so I can treat her too) and hang around talking and eating ice-cream. Since Vincent has a thing for funny women (clearly), he instantly likes Susannah too.
Last time I was in Rome I went to l'Orso 80 for lunch on Susannah's recommendation, which was fantastic.
Although we plan to visit ParmAromA, there was nobody there and the door was closed (at 6:something, which was the problem) so I subconsciously walked us to l'Orso 80.
We sat outside, ordered a bottle of wine, the antipasta, veal and lamb and had coffee for dessert. Waiter gave me an extra bowl of cookies (yes, it was the same flirty one as last year, but he totally flirted with Vin too).
Walking hand in hand through Rome as the night falls and it's still warm outside? Not a bad Sunday night.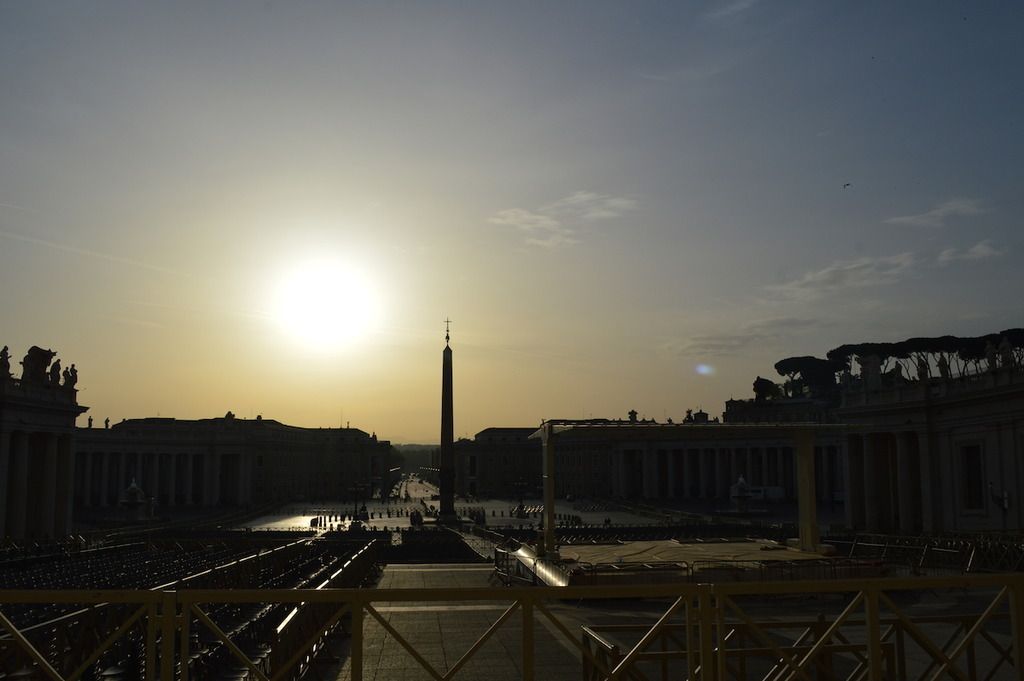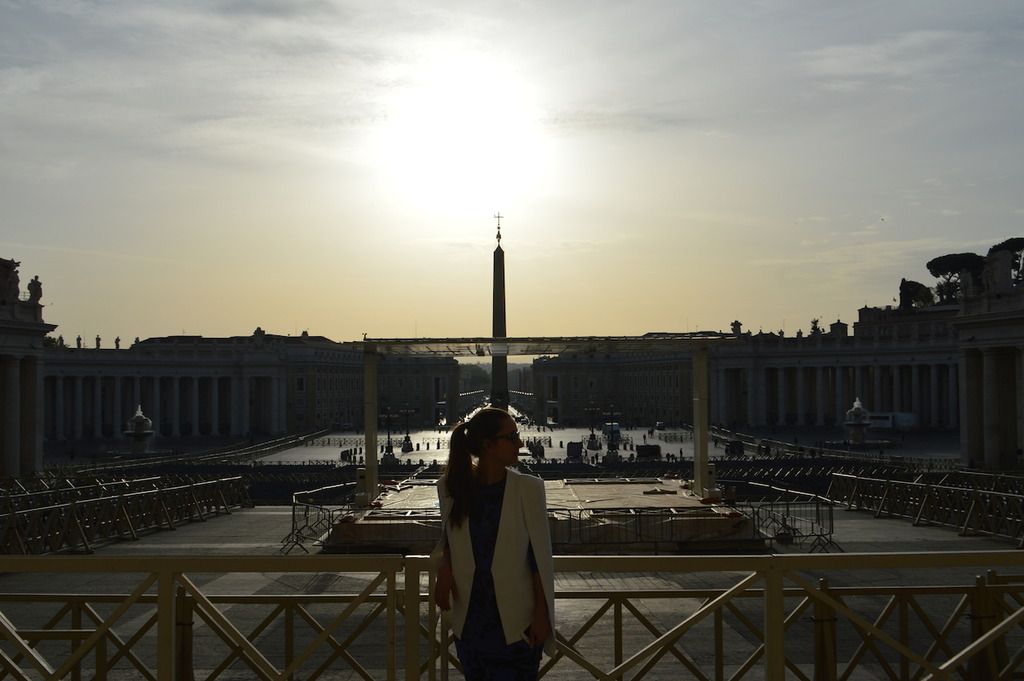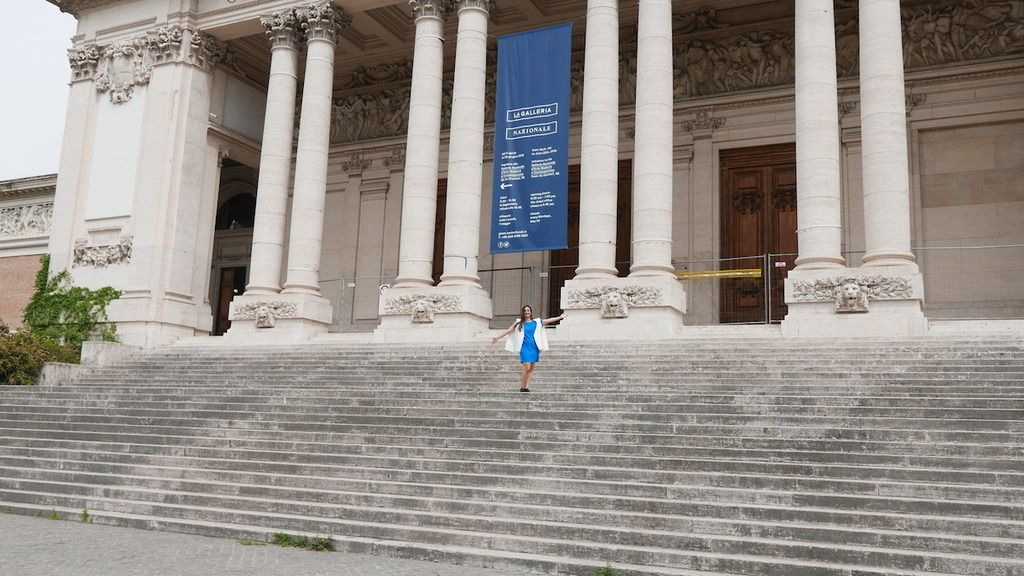 DAY 3: MONDAY 
Yay, it's my birthday! 28 years old.
We wake up at 06:30 to go to the St Peter. Yes, I'm repeating a lot of the highlights from last year. I just showing Vin the things I loved.
I convince Vincent we have to go back to St Eustachio for more coffee and more of that life changing puff pastry.
Afterwards, we go back to the room, have a shower, get our stuff and go do something super fun: To the Dutch embassy! We're getting my laisser-passer emergency travel document.
We walk there through the Villa Borghese park and it's absolutely beautiful.
At the Dutch embassy, everything goes pretty smoothly. I fill in a couple of forms, pay 50 euros, wait an hour (we go have coffee) and get my emergency travel document.
Lunch! We go to Gusto, have a lot of cheese and wine.
We walk around Rome some more, through the beautiful shopping streets, through little alleys and beautiful piazzas.
We have dinner at a spot near our room, outside. We dress up, because it's my birthday. I am not super impressed with the good restaurant, but the company more than makes up for it.
The next day we get up early, fly back and I end up working for a day and a half even though I'm officially off until May 2nd. But that's a story for another time.
Later, lovelies.