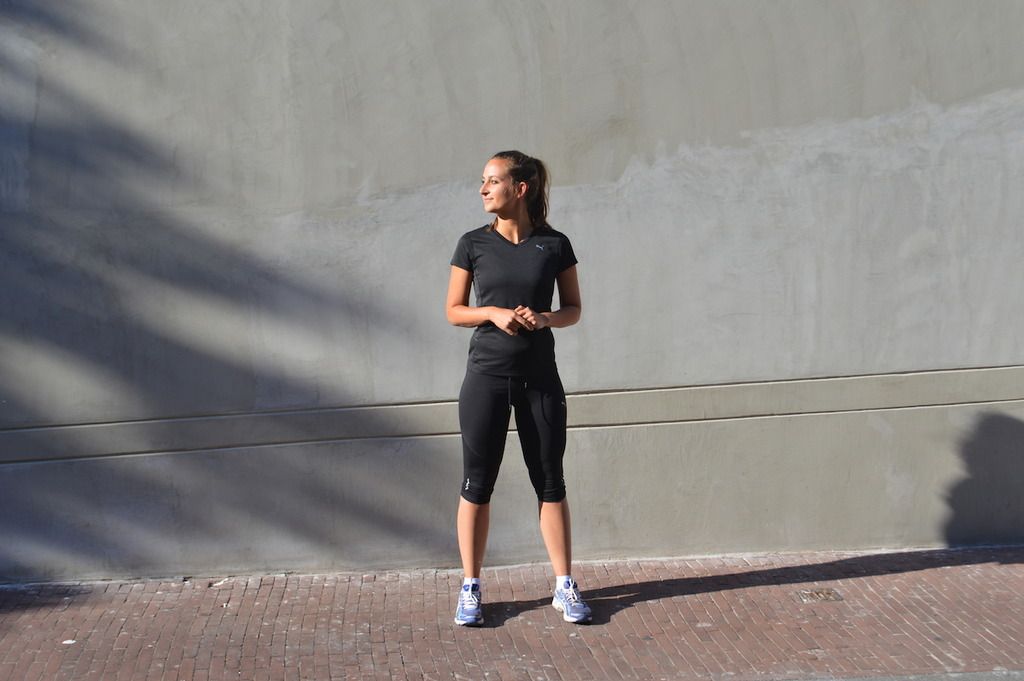 For GirlsLove2Run I wrote monthly blogs about training for a half marathon. On the 20th of June 2015, I ran a half marathon. Yes, I will rehash that forever and ever, or at least until the next one.
That half marathon race report concluded my contributions to GirlsLove2Run for 2015 (for the time being: I'm fairly sure Francien will let me come back), but I wasn't finished running.
For now, I am.
More on that below.
I didn't stop after the 20th.
After a summer break, I kept running. Fairly consistent at that. I was 'training'. I made miles, I ran about three times week. I wanted to get back to longer distances for a new half marathon.
In December, it started with a whiny pain in my hip after an 18K on a Saturday and a subsequent 13K on the following Monday. I was planning for a 9K that Monday, but because of a wrong turn in the woods (Great fairytale title) I ended up running 13 kilometres instead. Afterwards I felt my right hip was 'off' in a way, but I hoped some rest and a recovery run later that week would fix it.
I don't mind little aches while running, but I don't usually have pain after. Now, my hip kept hurting consistently throughout the day. Whether I was walking, sitting or standing? The hip hurt.
When I ran a 3K later that week, it started to hurt more. I decided to take at least a week off from running and see if it would have subsided by then.
Sitting in an airplane seat for 8 hours wasn't great. Neither was all the walking around and sightseeing. The ache become less over time though, and the Bikram classes I did in Brooklyn helped. Since I had my heart set on a run in Central Park, I decided to go for it anyway and ran 8K.
Afterwards, the ache was back full throttle.
All this time, it was really bumming me out. I had really enjoyed my two long distances in December, especially the 18K, and I wanted to train for long(er) distances, dammit. My stupid body needed to cooperate.
But I believe in listening to your body, so I decided to keep taking it easy in January too, and see my physical therapist. I figured he'd give me a massage, some exercises and I'd be on my way with a half marathon in my near future.
Nope.
He told me I have a syndrome that's common in runners going for long distances, and that it was good I caught it early, and that we were going to work on it. If I had ever heard of dry needling? No, but from his explanation I just thought "oh cool, accupuncture, bring it on" and laid down on the table with an attitude of 'whatever, how bad can it be'.
Well…bad.
Admittedly, my pain threshold is that of a melodramatic neurotic Sphinx Cat, so it might not be as bad for other people, but I hated it. HATED IT.
Afterwards I scrambled off the treatment table all dizzy, and I could hardly stand on my feet. My physical therapist told me to take it easy and to come back in two days.
Um, excuse me? Where is my sheet of exercises and the encouraging pat on the back to go run again? This was NOT the plan.
That evening I had a good cry over all the things (see previous point about being a melodramatic neurotic Sphinx Cat).
I'm okay now, but it took me some time to accept I won't be running like I had envisioned I would in spring 2016. Instead, I have to honour the signal from my body that I need work before I can get back to it. I only have one body, and I am not going to force it into ruins just because I want something.
I will not be running much until my hips stop hurting, just little runs, slowly. There's no long distances in my near future. Meh.
It still feels like a sour loss, and like I'm regressing instead of advancing, because I was doing really well and now I have build back up from 3Ks to 5Ks. But I need more time, and stronger hips before I want to go back to training for half marathons.
So I see my physical therapist weekly and I cycle a lot more than before, upon his recommendation. I go to yoga, but take it easy because I do NOT need more hip flexibility, it's the strength I lack. I have found some hip strengthening exercises I do at home, and other than that it's hope for the best I guess.
Sigh. Can you tell I'm still a little salty about it? Probably.
But you know what cupcakes? It is what it is. Hopefully it will be something else in a while.
Keep you posted.